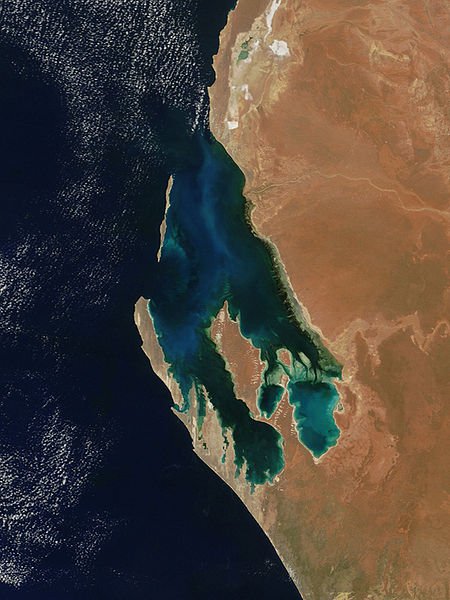 Péron Peninsula
Péron Peninsula is a long narrow peninsula located in the Shark Bay World Heritage site in Western Australia, at about 25o51' S longitude and 113o30' E latitude. It is some 80 miles (130 km) long, running north-northwesterly, located east of Henri Freycinet Harbour and west of Havre Hamelin and Faure Island. It is the largest of the Shark Bay peninsulas. Significant settlements include Denham and Monkey Mia. An airport (Shark Bay Airport) is located there. It is the location of former Pastoral leases Peron and Nanga stations. It is the main location of land access to points within the World Heritage site. The northern area contains the Francois Peron National Park. It is surrounded by the Shark Bay Marine Park and its lower southeast part is adjacent to the Hamelin Pool Marine Nature Reserve.
The narrowest section of the peninsula is between Nanga and Goulet Bluff - which has Shell Beach located on the eastern side which lies in the L'Haridon Bight.
The northernmost point is Cape Peron which has a namesake further south in the metropolitan Perth coastal area.
Shark Bay.
Shark Bay is a World Heritage Site in the Gascoyne region of Western Australia. It is an area centred approximately on 25°30′S 113°30′E25.5°S 113.5°ECoordinates: 25°30′S 113°30′E25.5°S 113.5°E, 800 kilometres north of Perth, on the westernmost point of Australia. An expedition led by Dirk Hartog happened upon the area in 1616, becoming the second group of Europeans known to have visited Australia. Shark Bay was named by William Dampier, in 1699.
The area has a population of fewer than 1,000 people and a coastline of over 1,500 kilometres. The half dozen small communities making up this population occupy less than 1% of the total area.
top