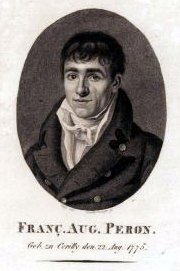 François Auguste Péron (1775 – 1810) was a French naturalist and explorer. He is credited with the first use of the term anthropology.
Péron was born in Cérilly (Allier) in 1775, the son of a tailor (not a harness maker as is frequently asserted). Although intended for the priesthood, in the wake of the Revolution Péron reluctantly joined the 2nd Allier Volunteer Battalion in 1792 and helped defend besieged Landau. In the following year he was wounded and taken prisoner by Prussian forces near Hochspeyer in the Pfalzwald. Imprisoned in the fortress of Magdeburg he was not repatriated to France until 1794. Having lost the sight of an eye, Péron was invalided out of the army. For two years he was Town Clerk in Cérilly before gaining a scholarship to study medicine in Paris. In 1800, after an unhappy love affair, he sought to join Nicolas Baudin's expedition to Australian waters as an anthropological observer. Instead he was appointed as a trainee zoologist.
During the voyage, which charted significant stretches of the Australian coast between 1801 and 1803, Péron clashed repeatedly with Baudin, When Stanislas Levillain and René Maugé died, Péron rose to prominence as the sole remaining zoologist. (Baudin had already lost numerous officers, sailors, savants and artists who deserted in Mauritius.) With the aid of the artist Charles Alexandre Lesueur(1778-1846), Péron was largely responsible for gathering some 100,000 zoological specimens - the most comprehensive Australian natural history collection to date. Although he died before he could fully study his specimens, Péron made a major contribution to the foundations of the natural sciences in Australia and was a prescient ecological thinker. He was also a pioneer oceanographer who conducted important experiments on sea water temperatures at depth. Péron wrote a great deal about the Tasmanian Aborigines of the D'Entrecasteaux Channel, on south-eastern Tasmania. Within 30 years almost all were dead through disease and war. The Australian historian Edward Duyker has shown that he has been unfairly accused of polygenism and racism, mainly because of a mistranslation of extracts from one of his scientific papers.
top