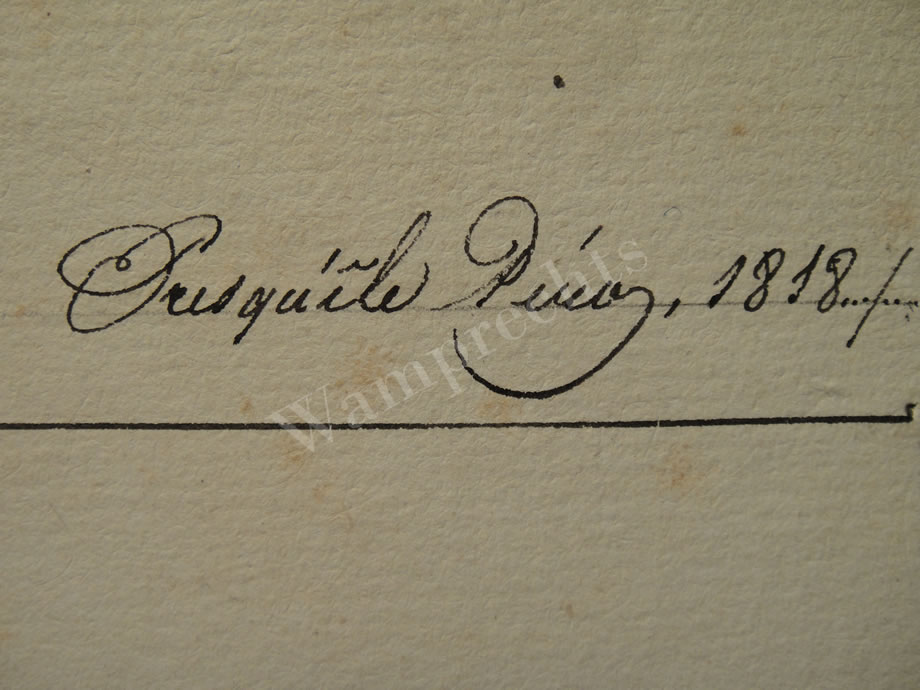 Jacques Victor Etienne Arago. (Jacques Arago).
(Estagel 1790-Brasil 1855).
Travel around the world 1817-1821, La Uranie-La Physicienne.
# 27
This ink wash drawing coincides with all the Gaudichaud Beaupré explanations of the species MELALEUCA AND THE # 110 LAMARCHEA HAKEAEFOLIA, page 482 of the book: "Livre II Botanique herbiers, Voyage de L´Uranie".
Unpublished.
Signed & dated 1818. Js. Arago, fecit 1818./…..Fecit : (he made it).
Histoire Naturelle.
Nouvelle Hollande, Presquile Péron, 1818./
Approuve par mmrs les naturalistes.
Ink wash drawing.
37, 50 x 28 centimeters.
14, 06 x 10.9 inches.

Detail of the signature of Arago.
François Auguste Péron (1775 – 1810) was a French naturalist and explorer. He is credited with the first use of the term anthropology.
Peron Peninsula.
The Peron Peninsula is a long narrow peninsula located in the Shark Bay World Heritage site in Western Australia, at about 25o51' S longitude and 113o30' E latitude. It is some 80 miles (130 km) long, running north-northwesterly, located east of Henri Freycinet Harbour and west of Havre Hamelin and Faure Island. It is the largest of the Shark Bay peninsulas. Significant settlements include Denham and Monkey Mia. An airport (Shark Bay Airport) is located there. It is the location of former Pastoral leases Peron and Nanga stations. It is the main location of land access to points within the World Heritage site. The northern area contains the Francois Peron National Park. It is surrounded by the Shark Bay Marine Park and its lower southeast part is adjacent to the Hamelin Pool Marine Nature Reserve.
The narrowest section of the peninsula is between Nanga and Goulet Bluff - which has Shell Beach located on the eastern side which lies in the L'Haridon Bight.
The northern most point is Cape Peron which has a namesake further south in the metropolitan Perth coastal area.
top