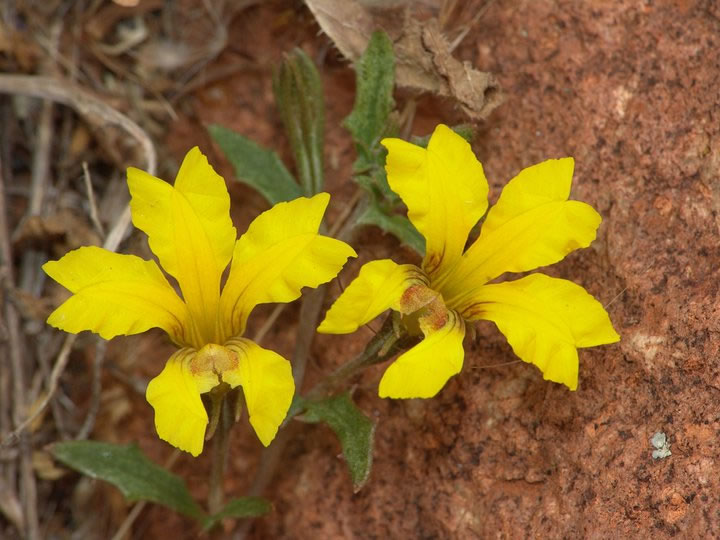 DRAWING NUMBER 80.
Artist: A Poiret. Del.
LOST DRAWING.
PLEASE CLICK HERE TO SEE THE IMAGE AT THE SECTION OF ENGRAWINGS.
GOODNOVIAE, R. Brown.
DISTYLIS.
Calix ovario adnatus, limbo libero quinquepartito, persistens. Corolla decidus; tubo posticè fisso; limbo quinquepartito, patente, subbilabiato, laciniis margine termioribus. Stamina quinque, distincta. Stylus bipartitus. Stigmata membranulâ cupuliformi ciliate involucrate.
Capsula calyce persistente coronata, semibilocularis; disepimentum abreviatum, valvis parallelum. Semina imbricata, compresa orbiculata, membranâ cincta.
Herba pilosa annua, multicaulis. Caules subsimplices. Folia alterna, dentata. Flores axilares, solitarii, longe pedunculati, racemosi, ebracteati, flavi.
1. DISTYLIS BERARDIANA. Pl. 80.
Goodenia beraradiana. Olim.
In Nova-Hollandiae orâ occidentali. (baie de Chiens Marins.).
WEST NEW HOLLAND. (AUSTRALIA).
Je consacre cette plante à M. Auguste Bérard (frère du savant chimiste de ce nom), officier de la marine française, qui, pendant tout le voyage, a rendu les plus grands services à l´ histoire naturelle.
I dedicate this plant to M. Auguste Bérard (brother of the scientist chemist of that name), French naval officer, who, throughout the voyage, rendered the greatest services to natural history.
PAGE 460.
top