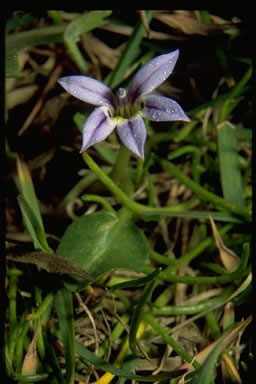 DRAWING NUMBER 79.
LOST DRAWING.
PLEASE CLICK HERE TO SEE THE IMAGE AT THE SECTION OF ENGRAWINGS.
Artist: A Poiret. Del.
PRATIA.-Lobeliae. Sp.
Calix ovario adnatus, limbo libero, quinquedentato. Corolla subinfundibuliformis, dorso usque ad basim fissa; limbo quinquefido, patente.
Stamina 5; filamenta supernè in tubum connata; antherae connatae. Stigma bilobum. Capsula calyce carnoso-obtecta, bilocularis, non dehiscens; loculis polyspermis.
Herbulae pusillae. Caules filiformes; ramosi, folia crassiuscula; flores axilares, solitarii, pedunculati, pallidè roseo-violacei; pedunculis subbracteolatis.
J´ai consacré ce genre à la mémoire de M. Prat-Bernon, élève de la marine de première classée, mort en mer dès les premiers jours de notre navigation.
I dedicated this genus to the memory of Mr. Prat-Bernon, a student of the first-ranked Navy, died at sea in the early days of our voyage.
PRATIA REPENS. Pl. 79.
P. caule repente; foliis petiolatis, subreniformibus, undulatosubcrenulatis.
Lobelia pratiana. Olim.
In insulis Maclovianis.
FALKLAND ISLAND.
PRATIA ! ERECTA.
P. caule suberecto. Foliis sessilibus, ovato-lanceolatis, remotè et argutè dentatis.
Lobelia concolor ?? R. Brown, Prodr. Pag. 562.
In Nova-Hollandiae orâ oriental (Port Jackson) . Fraser communicavir.
EAST NEW HOLLAND.
PAGE 456.
top