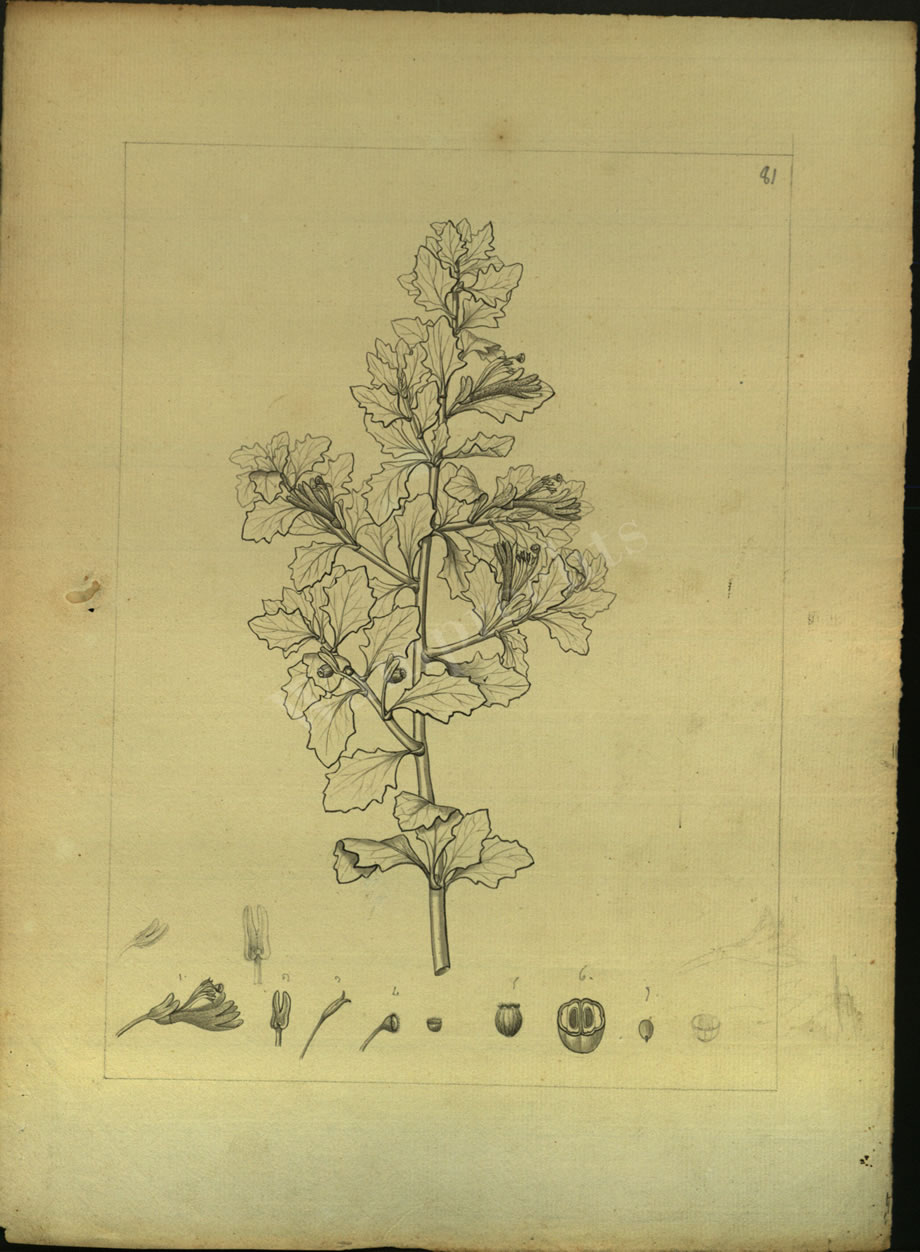 DRAWING NUMBER 81.
Artist: A. Poiret. Del.
Notes by Charles Gaudichaud Beaupré.
SCAEVOLA, Linn.
1. SCAEVOLA TOMENTOSA. Pl. 81.
S. fructicosa erecta; fuscescenti-tomentosa; pube stellunatà; foliis mollibus, subrhombeo–ovatis, obtusis, sinuato-dentatis; floribus axillaribus, solitariis pedunculatis; calyce abreviato quinquedentato; corollâ pubescente; bracteolis unilateralibus, semiconnatis, integerrimis; fructu dispermo.
In Nova Hollandiae orâ occidentali (baie des Chiens Marins.)
EAST NEW HOLLAND. (AUSTRALIA)
2. SCAEVOLA MONTANA.
S. fruticosa, erecta, glabra ; foliis lanceolatis, acutis, basi angustatis, intergerrimis, subfalcatis ; fructibus axilaribus solitariis, breviter pedunculatis, subracemosis, calyce urceolato obtuso quinquelobo coronatis, dispermis; bracteolis linearibus, intergerrimis.
In insulis Sandwicensibus (Alt. 450-500 hex.) ; tum sequente.
SANDWICH ISLANDS.
3. Scaevola chamisoniana. Pl. 82.
S. fructicosa, erecta, glabra ; foliis oblongis, utrinque acuminatis, argutè denticulatis ; axilis barbatis ; pedunculis axillaribus, dichotomis, folium subaequantibus ; floribus dichotomlarum sessilibus ; calycibus abbreviatis, quinquedentatis ; corollis pubescentibus ; drupis bilocalaribus.
A M. Adelbert de Chamisso, naturaliste de l´expédition autour du monde, commandée par M. le capitaine Kotzebue, de la marine russe.
To Mr. Adelbert de Chamisso, naturalist of the expedition around the world, commanded by Captain Kotzebue, of the Russian Navy
PAGES 460-461.
top