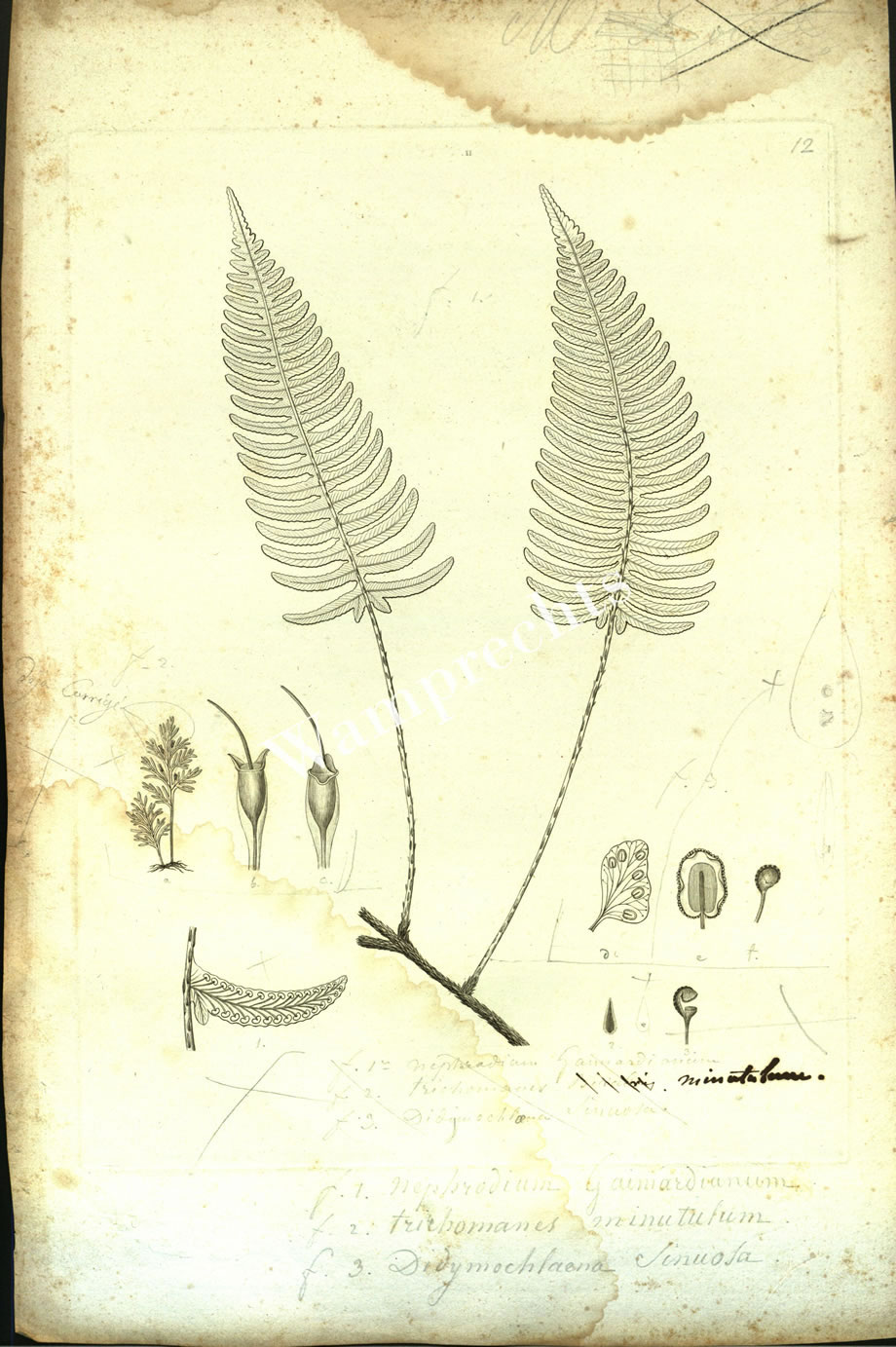 ENGRAVING TEST NUMBER 12.
Artist: A. Poiret. Del. (Signed).
Notes by Charles Gaudichaud Beaupré.
Swartz & c. Nephrodium aspidii, spec. NEPHRONIUM. Nephrodium gaimardianum.
The engraving number 12 also appears identified as:
Fig 1. Nephronium gaimardianum
Fig 2. Trichomanes minutulum.
Fig 3. Didimochlaena sinuosa
NEPHRODIUM.
Fronde pinnatifidâ, pinnis adnatis.
NEPHRODIUM GAIMARDIANUM. Pl. 12, fig. 1.
N. frondibus sparsis, lanceolatis, profundè pinnatifidis; laciniis lineari.lanceolatis, subfalcatis, obtusis, integris (fertilibus undulatis), infimis margineinferiore basi auriculatis vel pinnatifidis; soris solitaries, marginalibus; stipiterhachibusque paleaceis; paleis fuscis, albido-marginatis,-peltatis; caudice ascendente,squamoso.
In insulis Moluccis (RawaK), Sandwicensibus!
Je consacre cette espèce à mon ami M. Gaimard, second chirurgien, et l´ un des rédacteurs de la partie zoologique de notre Voyage.
I dedicate this species to my friend M. Gaimard, second surgeon, and one of the editors of the zoological part of our journey.
MOLUCAS ISLANDS (RAWAK). SANDWICH ISLANDS!
PAGES 335-336.
top