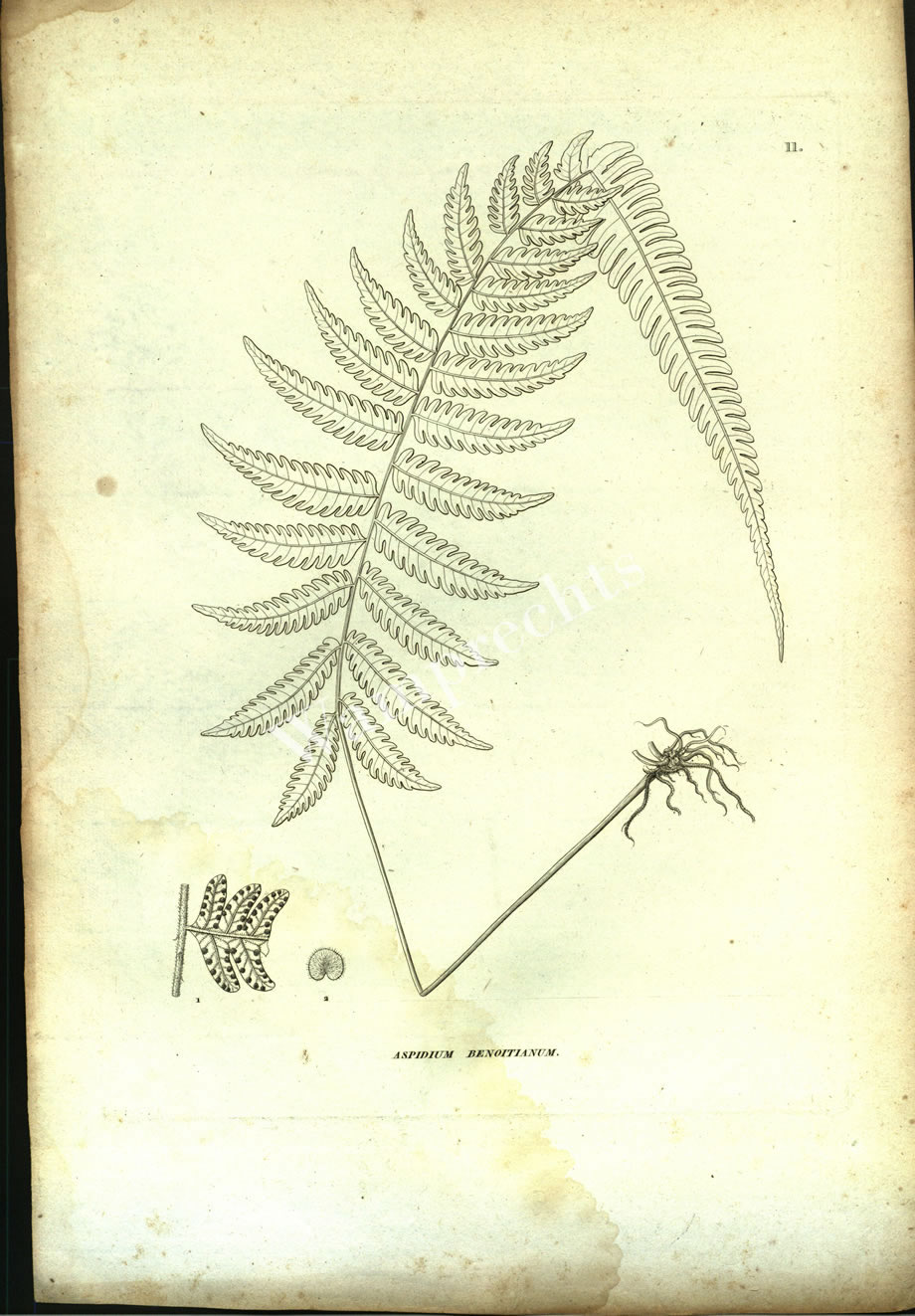 ENGRAVING TEST NUMBER 11, APPROVED FOR THE BOTANICAL ATLAS OF THE EXPEDITION LA URANIE-LA PHYSICIENNE 1817-1820.
Artist: A. Poiret. Del.
Notes by Charles Gaudichaud Beaupré.
POLYSTICHUM.
Polystichum benoitianum. Pl. 11.
P. frondibus fasciculatis, ovato lanceolatis, pinnatis; pinnis ovato-lanceolatis, subfalcatis, obtuse acuminatis, pinatifidis, subtùs in venis hirtis; terminali lanceolatâ, longisimâ, profundè, pinnatifidâ, subacuminata, (vel superioribus confluentibus.); laciniis oblongis, falcatis, obtusis, ciliatis; stipite quadrangulato, squamoso squamisque hirtis; soris solitaris, marginalibus; inclusiis lucidis, hirtis.
(Aspidium benoitianum, Gaudichaud, miss.).
In insulis Moluccis (Rawak.).
Je consacre cette espèce à mon ami M. Benoit, pharmacien de Paris, en témoignage de reconnaissance pour les savantes leçons que j´ai reçues de lui.
I dedicate this species to my friend M. Benoit, pharmacist in Paris, in testimony of recognition for the lessons that I received from him.
MOLUCAS ISLAND (RAWAK).
PAGE 332.
top