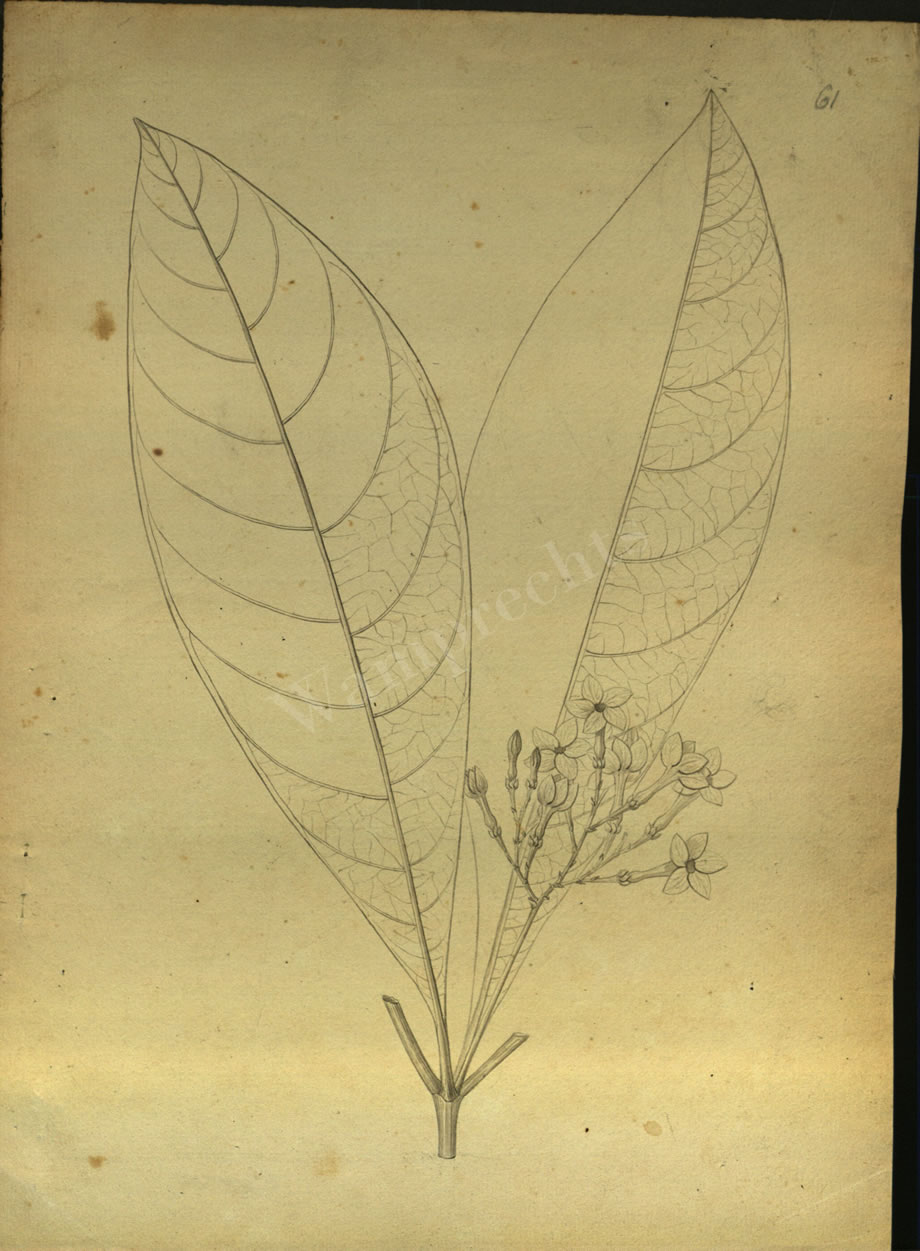 DRAWING NUMBER 61.
Artist: A. Poiret. Del.
Notes by Charles Gaudichaud Beaupré.
APOCYNEAE, Jussieu, R. Brown.
REJOUA.
Calix parvus quinquepartitus. Corolla hypocrateriformis, tubo elongato, infrà medium inflato ibique intùs staminifero, limbo quinquepartito, patentissimo; laciniis obliquè ovate aequalibus, tubo brevioribus.
Stamina 5, filament brevissima. Antherae cordato-sagittata, basi affixae, biloculares, liberae, inclusae,. Ovaria duo. Styli 2, connati. Stigma subclavatum apice bicuspidatum. Fructus subrotundo-ellipticus subumbilicatus, polyspermus non deshicens; cortice membranaceo, pulpâ exsuccá cellulosâ nitente. Semina nidulantia, ovato-parallelepipedea, compressa, externè rugulosa, badia.
Arbor inermis. Folia opposita oblongo-lanceolata, membranacea. Paniculae terminales pedunculatae, bracteatae. Flores sparsi, virescentialbidi. Fructus magnus, rubro-aurantius, fructum citri aurantium referens.
1. REJOUA AURANTIACA. Pl. 61.
Tabernaemontana aurantiaca, Gaudichaud, gener, pag 50 et 55.
In insulis Moluccis (Rawak).
Cette plante a reçu le nom de Rejoua, en l´honneur de M. Réjou, pharmacien en chef et savant professeur de botanique et de chimie de la marine, auteur de plusieurs mémoires importants sur les sécrétions des végétaux, &c.
This plant received the name of Rejoua, in the honour of Mr. Rejou, pharmacist in chief and scientist professor of botanical and chemistry of the marine, author of several important memorials of secretions of the plants, &c.
MOLUCAS ISLANDS. (RAWAK).
PAGE 450-451
top