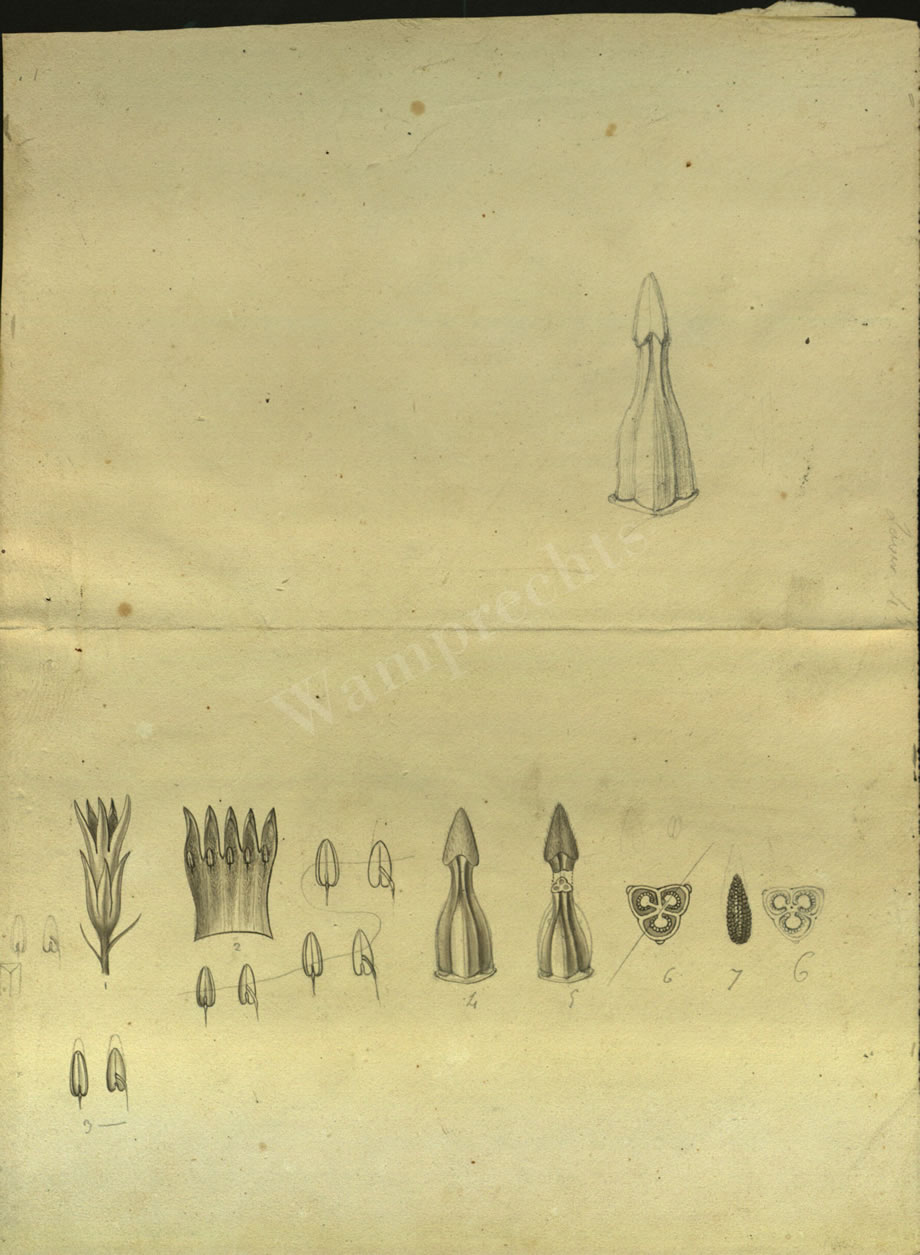 DRAWING NUMBER 60-B.
Artist: A. Poiret. Del.
Notes by Charles Gaudichaud Beaupré.
R. Brown. LOGANIAE, (A & B) Labordia fragraeoïdea.
Labordia fragraeoïdea. Pl. 60.
Calix campanulatus, quinquefidus; laciniis lanceolatis, subinaequalibus. Corolla tuboloso-infundibuliformis, hypogyna, quinquefida, regularis, basi ventricosa ; laciniis lanceolatis, patulis, internè fauceque villosiusculis. Stamina quinque, fauci corollae inserta, cum ejus laciniis alternantia. Filamenta brevia. Antherae ovato-oblongae, obtusae, cordatae,inclusae, biloculares, internè secundùm longitudinem deshiscentes. Ovarium Liberum, sessile, ovatum, trigonum, triloculare ; placenta una in quolibet loculo, angulo interno affixa, oblonga, carnosa, undique ovulis obsita. Ovula minuta, creberrima. Stylus terminalis, brevis, crassus, triangularis, cum ovario continuus. Stigma conicum, triangulare, pubescens. Fructus capsularis (?) trilocularis, polyspermus.
Frutex glaber; ramis oppositis, teretibus. Folia opposita, olblonga, integerrima. Stipulae axilares, oppositae, per dorsum basi petioli adnata. Flores terminales, pedunculati, umbellati, flabido-albi ; pedunculi medio bibracteati ; bracteis linearibus ; calcybus flavido-viridibus.
In insulis Sandwicensibus. (Alt 450-500 hexap.).
Ce genre a été dédié à la mémoire de l'un de nos infortunes compagnons de voyage, M. Laborde, officier de marine, mort en mer dans le voisinage de I´lle de-France.
This genus has been dedicated to the memory of one of our journey misfortunes partner, Mr. Laborde, marine officer died in sea in the proximities of I´lle-de-France.
PAGE 449-450
SANDWICH ISLANDS
top