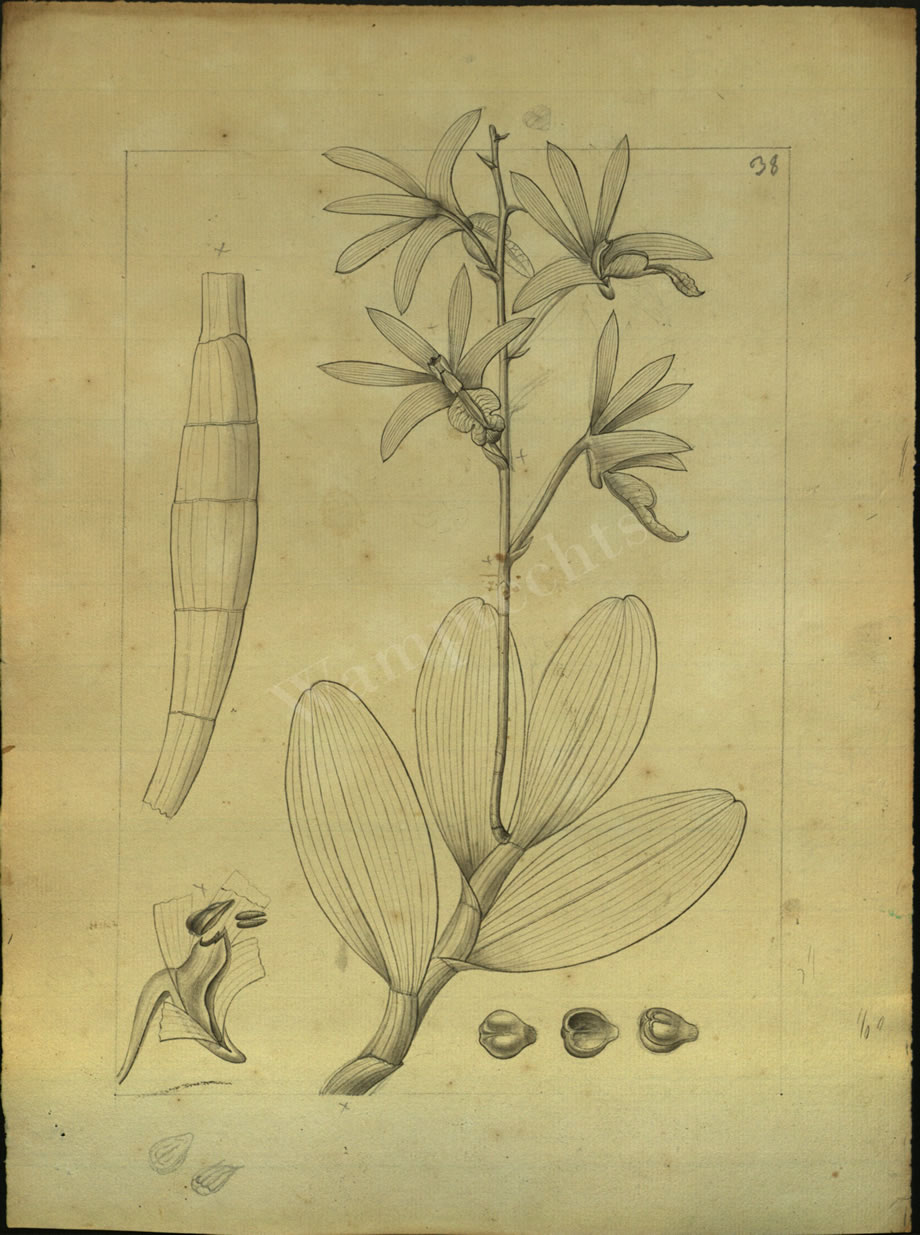 DRAWING NUMBER 38.
Artist: A. Poiret. Del.
Notes by Charles Gaudichaud Beaupré.
DENDROBIUM, Swartz.
1. DENDROBIUM LANCEOLATUM.
D. caule erecto, simplici, folioso; foliis lanceolatis, subacuminatis, distichis, patentissimis, striato-quinquenerviis, planis, mambranaceis; scapo radicali erecto, paucifloro; foliolis calycis oblongis, acutis; labello integro, spatulato, obtuso.
In insulis Mariannis (Rawak.), cum sequentibus.
2. DENDROBIUM MIRBELIANUM. Pl. 38.
D. caulibus simplicibus, erectis, medio bulboso-incrassatis; foliis oblongis, emarginatis, coriaceo-carnosis, nervosis, planis; racemo in apice caulis (proximo) oppositifolio, elongato, plurifloro; foliolis calycis lanceolatis, acutis; labello trilobo; lobis lateralibus rotundatis, intermedio longiore, oblongo, acuto.
J´ai consacre cette belle espèce au savant professeur M. de Mirbel, comme un témoignage de reconnaissance et de respect.
I have dedicated this beautiful species to the wise professor M. Mirbel as a testimony of recognition and respect.
3. DENDROBIUM ANCEPS.
D. caulibus ramosis, repentibus; disticho-imbricatis, deltoideo-pvatis. Carinatis, acutis, carnosis, enerviis; pedunculis axillaribus, brevibus, bracteosis, 1-3-floris; bracteis distichis, superioribus majoribus, coloratis; foliolis calycis oblongis; labello….
D. anceps. Bot. regist. 1239.
MARIANA ISLANDS.
PAGES 423-424.
top