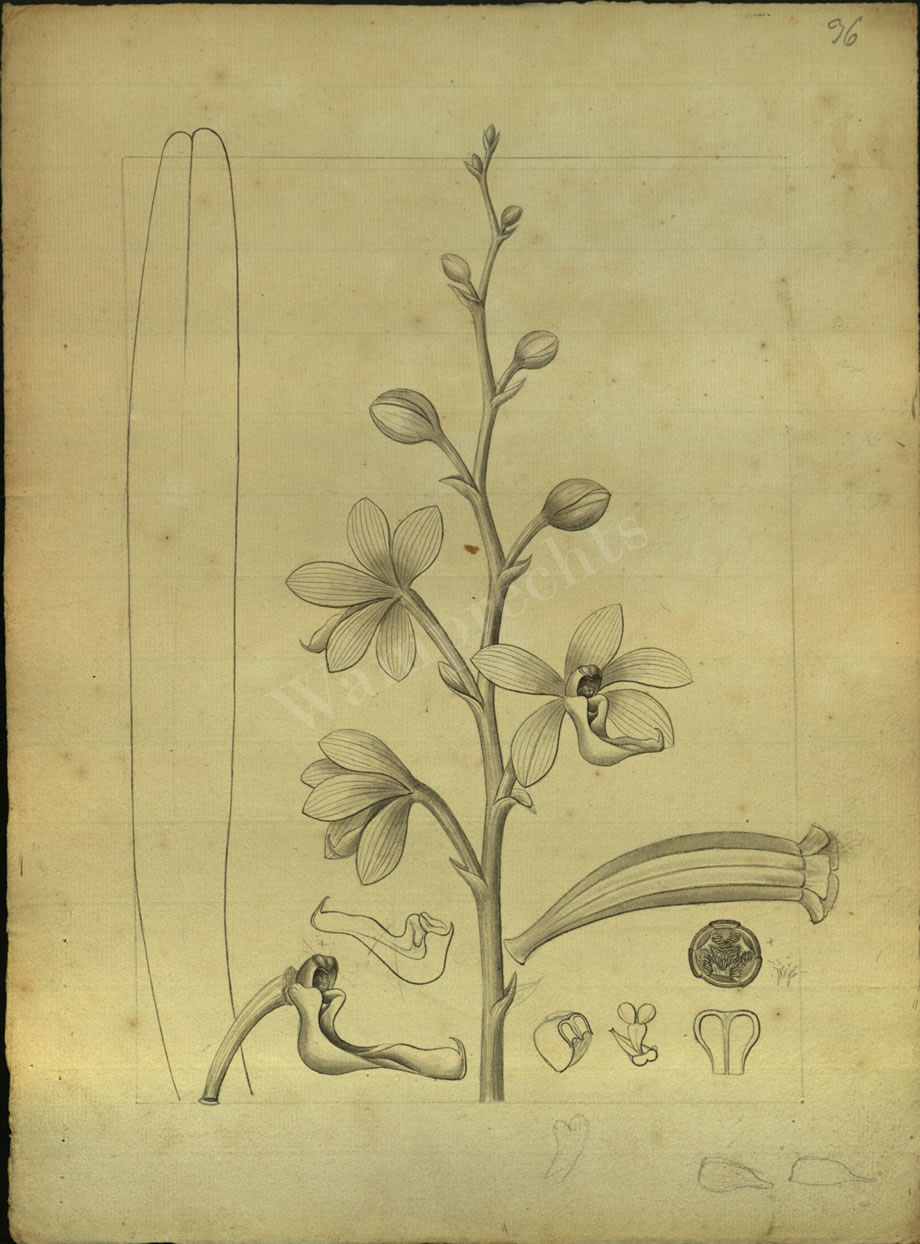 DRAWING 36-A.
Artist: A. Poiret. Del.
Notes by Charles Gaudichaud Beaupré.
FIELDIA.
Calycis foliola quinque obobato-oblonga, patentissima, duo interiora paulò minora; sextum (labellum) brevius, liberum angustum, canaliculatum, basim versus dilatatum et subgeniculato-saccatum, apice subrostrato-uncinatum. Columella abbreviatA, aptera. Anthera terminalis, operculata, decidua, bilocularis. Massae pollinis duae, cereae, subellipricae, per processum obovato-spathulatum cohaerentes. Processus glandulaé maximae cum apicestigmatis connatae insidens.
Herba parasitica, basi frutescens, folia longa, latè linearia, plana coriacea, emarginata. Caulis scapiformis, longissimis (1-3 ped.), simplex, multiflorus. Flores spicati sessile, speciosi, unibracteati, lutei, purpureo-maculati.
Distinguitur à lIssochilo, cui proxima, praesertim : calycis foliolis quinque subaequalibus labelloque libero. In lissochilo, ex foliolis quinque, 3 exteriora, parva, reflexa, duo interiora maxima alaeformia, labellum basi cum columella connatum.
Lissochilus est herba terrestris.
1. FIELDIA LISSOCHILOÏDES. Pl. 36.
Lissochilus fieldianus, olim.
J´ai consacré ce genre, comme un témoignage de ma profonde reconnaissance, à M. Barron Field, juge de la cour suprème au Port-Jackson, qui nous a facilité les moyens de traverser les Montagnes-Bleues.
I dedicate this genus, as a deep gratitude to Mr. Barron Field, Judge of the Supreme Court in Port Jackson, who provided us with all the procedures to cross the Blue Mountains.
In insulis Moluccis (Rawak.).
MOLUCAS ISLAND.
PAGE 424.
top