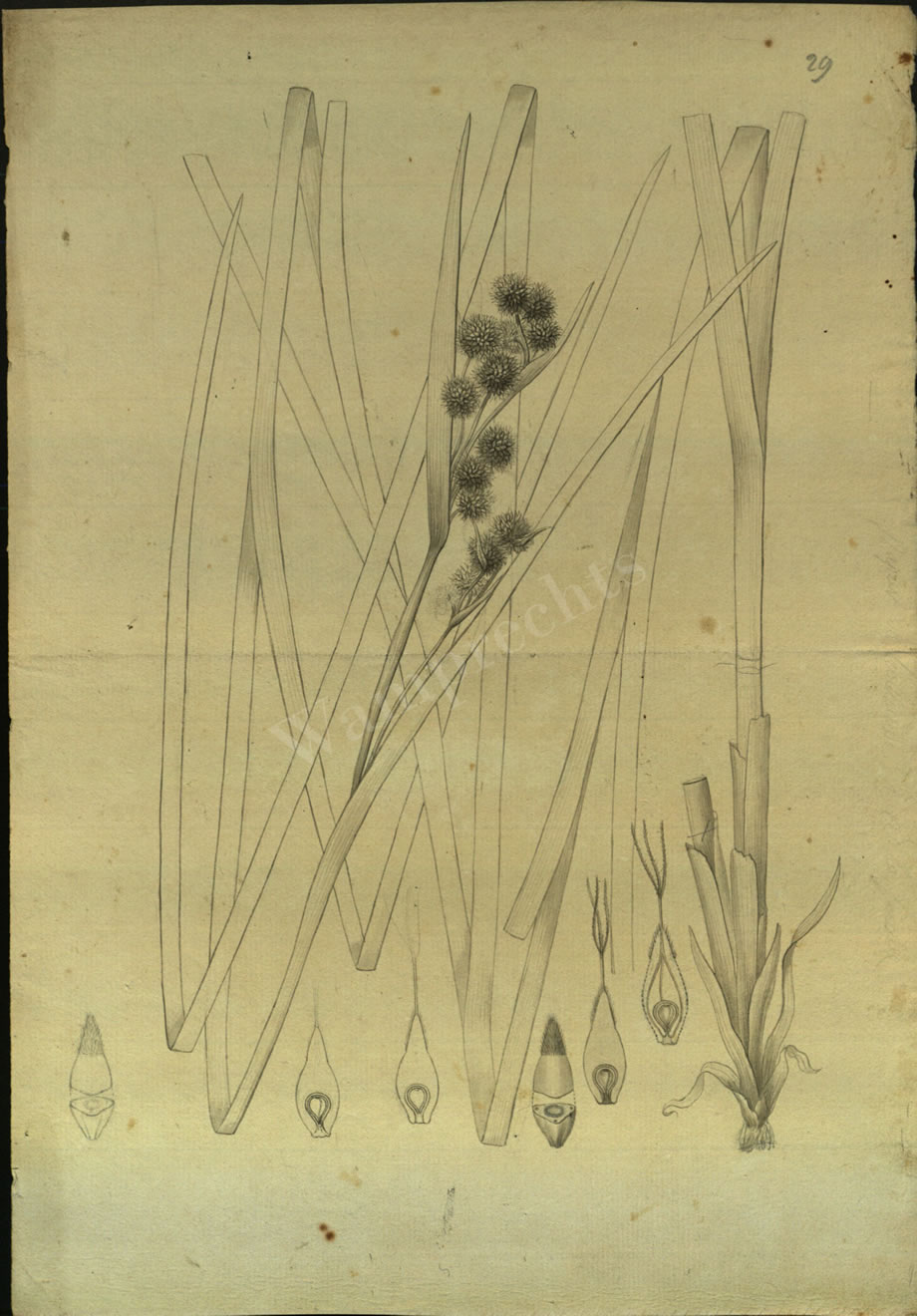 DRAWING NUMBER 29.
Artist: A. Poiret. Del.
Notes by Charles Gaudichaud Beaupré.
BAUMEA.
Spiculae uniflorae; squamae quatuor subdisticho-imbricate, ovatae, concavae, duae exteriorès majors.
Stamina 3, hypogina longè exserta. Ovarium ellipticum sessile, glabrum. Stylus I, terminalis basi conico-incrassatâ , hirsutâ persistente. Stigmata tria elongata, pubescentia. Setae nullae. Fructus ellipticus trigonus osseus, basi conicâ hirsutâ styli coronatâ.
Culmi erecti, simplices ancipites, foliati, folia linearia basi equitantia. Paniculae terminales, spiculis aut solitariis aut capitatis.
Nous consacrons ce genre à la mémoire d´Antoine Baumé, auteur des Hémens de pharmacie, d´un Traité de chimie et de plusieurs Mémoires importants sur les éthers, les argiles, &c.
We dedicate this gender to the memory of Antoine Baumé, author of the Hémens (?) of pharmacy, a Treatise of Chemistry and several important memoirs about ethers, clays, & c.
BAUMEA GLOMERATA. Pl. 29.
B. spiculis capitato-congestis; capitulis subglobosis paniculatim dispositis; achenio aurantiaco, laevi.
In insulis Moluccis. (Rawak.)
MOLUCAS ISLAND.
PAGES 416.
top