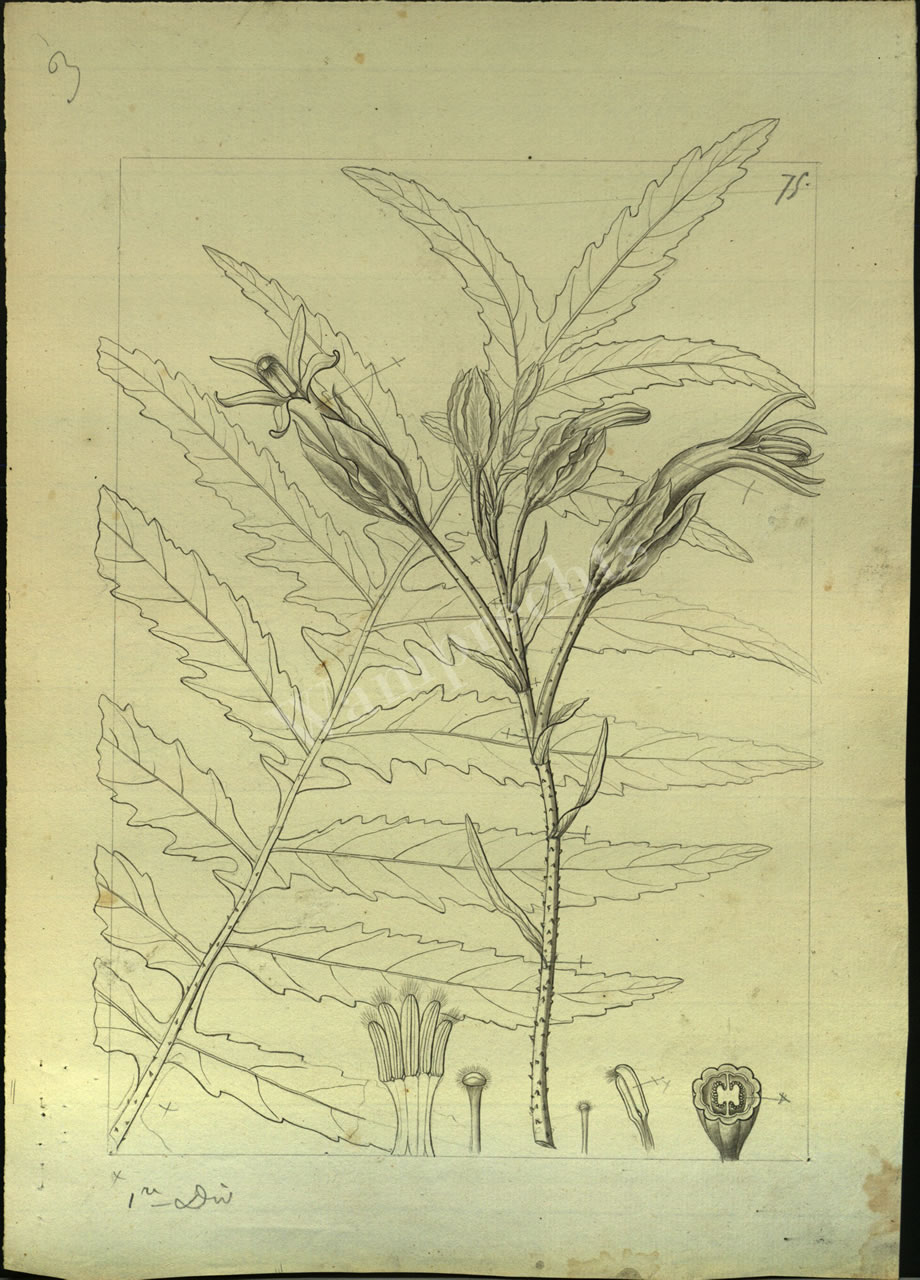 DRAWING NUMBER 75.
Artist: A. Poiret. Del.
Notes by Charles Gaudichaud Beaupré.
CYANEA.-Lobeliae. Sp.
Calix ovario adnatus, decemsulcatus; limbus foliaceus longior, quinquepartitus; laciniis oblongis, margine reflexis et undulato-crispis. Corolla tubuloso-cylindracea, arcuata; limbo quinquepartito; subbilabiato. Stamina quinque; tubus stamineus liber. Antherae connatae, barbatae. Capsula baccata, sulcato-decagona, indehiscens, bilocularis, calyce persistente coronata. Semina creberrima.
Arbor lactescens; ramis ramulisque tuberculato-aculeatis. Folia alterna, extipulata, pinnatipartita, serrata. Racemi axilares; pedicellis basi unibracteatis. Flores cyanei.
Cyanea grimesiana. Pl. 75
C. ramosa; foliis magnis pinnatipartitis, glabriusculis; laciniis lanceolatis, grossè dentatis; petiolo, rhachi pedunculisque tuberculoso-aculeolatis; calycybus quinquepartitis; laciniis magmis, oblongis, margine undulato-crispis.
Lobelia grimesiana. Olim.
Incolarum.
A M. Grimes, Pharmacien en chef et savant professeur de chimie de l´marine.
To Mr.Grimes, chief pharmacist and scientist, chemistry professor of the marine.
PAGE 458.
top