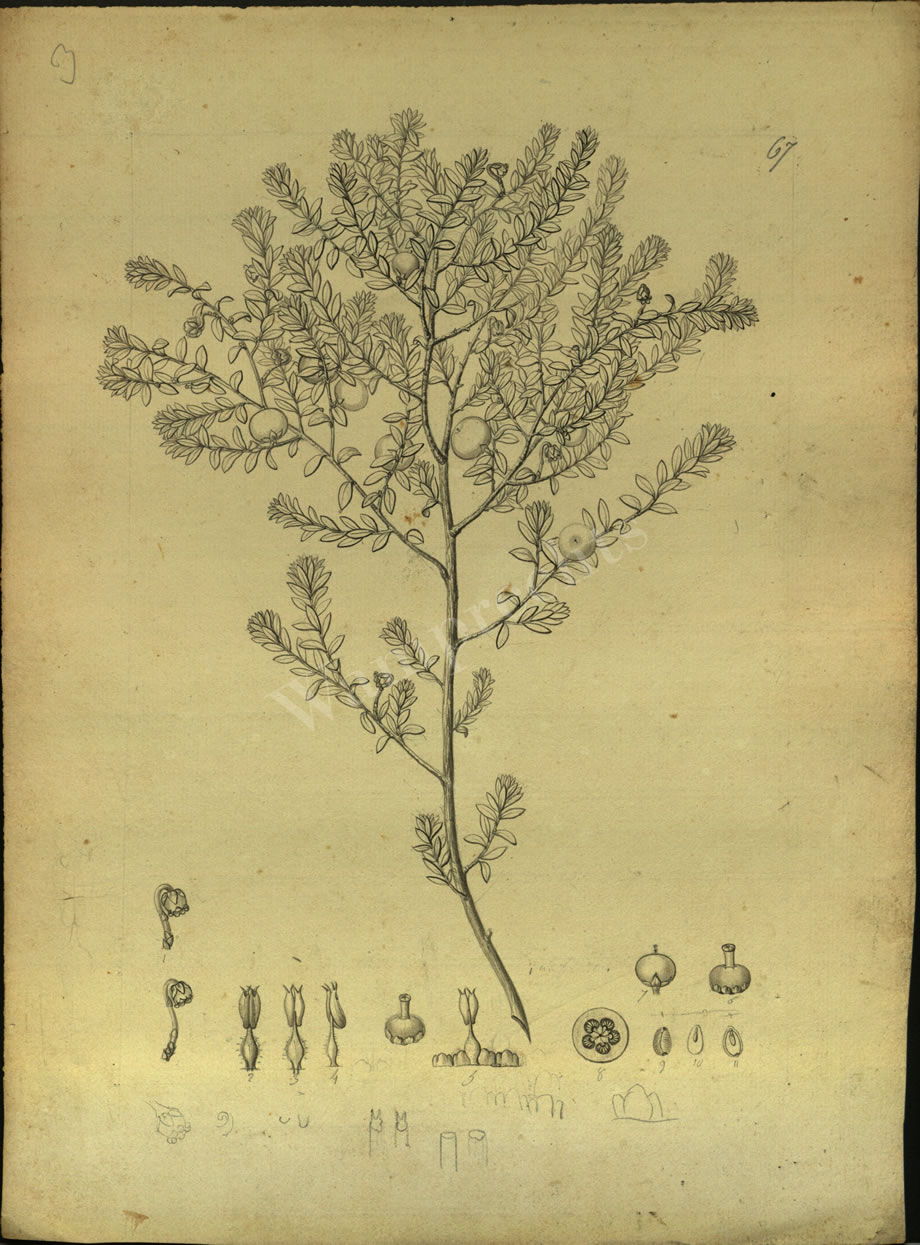 DRAWING NUMBER 67.
Artist A. Poiret. Del.
Notes by Charles Gaudichaud Beaupré.
ERICEAE, Jussieu.
PERNETTYA.
Calix inferus, quinquepartitus. Corolla globosa, limbo quinquefido, revoluto. Stamina 10, subhypogyna, inclusa ; filamenta suprá basim ventricoso- incrassata ; antherae biloculares, apice bilobae ; lobis bifidis, apertis. Ovarium liberum, depresso – globosum, quinquelocularé ; loculis polyspermis ; glandulae 10, trilobae, basim ovarii annulatim cingentes cum staminibus alternantes. Stylus terminalis, brevis, Stigma convexum, obsoletè quinquelobum. Bacca calyce persistente subcarnoso suffulta, polysperma. Semina minuta, oblongo-ovata. Fructibus ramosissimus, procumbens; folia parva, alterna, approximata. Flores axilares, solitarii, pedunculati, cernui, albi; pedunculis bracteosis.
PERNETTYA EMPRETIFOLIA. Pl. 67.
Arbutus empretifolia. L, Persoon, Syn. Pl. 1, pag. 48 3.
A. Punila? Wild. Sp. Pl. 3, pag. 619; Persoon. Syn. Pl. 1, pag. 48 3.
Andromeda empretifolia. Lamarck, Encycl. 1 pag. 155; Willd. Sp.
Pl. 3, pag 609, No 9.
Bruyère à feuilles pointues. Pernetty, 11, pag. 64.
In insulis Maclovianis.
J´ai consacré ce genre à la mémoire de Don Pernetty, qui a écrit l´histoire de son voyage aux iles Malouines, ouvrage remarquable par l´intérêt, le son de candeur et de vérité qu´a su y répandre son auteur.
I dedicate this genus in the memory of Dom Pernetty, who wrote the history of his journey to the Falkland Islands, remarkable work by the interest of his investigations.
FALKLAND ISLANDS.
PAGE 454.
top