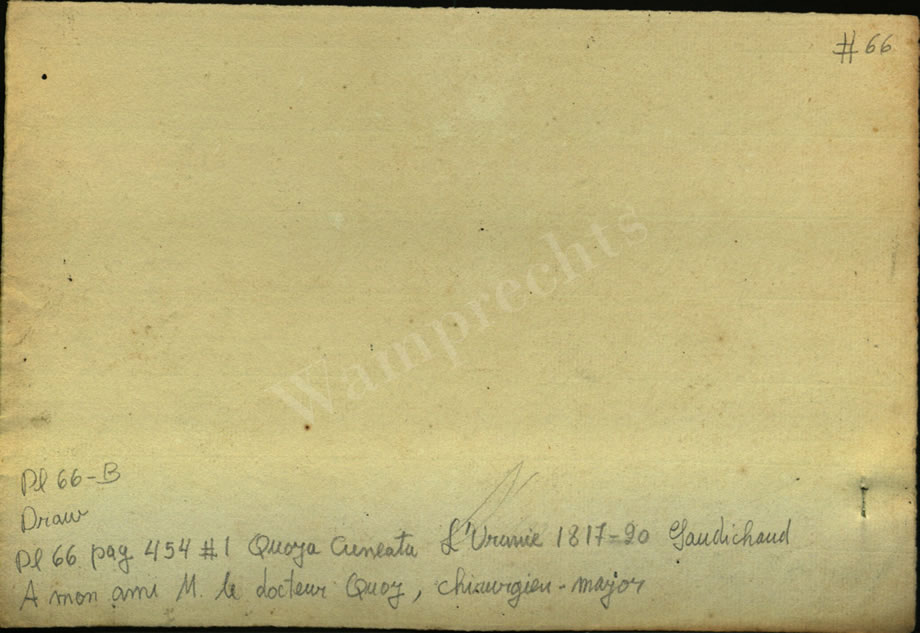 DRAWING NUMBER 66-B- REVERSO.
Artist: A. Poiret. Del.
Notes by Charles Gaudichaud Beaupré.
VERBENACEAE! Jussieu.
QUOYA.
Calix subturbinatus, bilabiatus, labio superiore trilobo, inferiore bifido. Corolla turbinato-campanulata, limbo quinquelobo, bilabiato, lobis quator acutiusculis (duobus lateralibus minoribus), infimo maximo subrotundo concavo. Stamina quator corollae mediun versùs inserta, exserta, didynama. Antherae biloculares; loculis collateralibus aequalibus basi calcaratis; calcaribus apice connatis. Ovarium obovatum, emarginatum, quadriloculare, loculis monospermis, placentâ centrali demùm bipartibili. Ovula oblongo-teretia, infrà medium affixa. Stylus terminalis, filiformis, exsertus. Stigma incrassatum, apice bilobum.
Fructus…………………………….
Suffrutex tomentosa pilis stellulatis v. ramosis ; ramulis teretibus.
Folia oposita, sessilia, obovato-cuneata, crenata, rugulosa. Umbellae axilares, pedunculatae, simplices, pauciflorae, bracteatae. Flores pedicellati, caerulescentes.
1. QUOYA CUNEATA. Pl. 66.
In Novae-Hollandiae orâ occidentali (baie des Chiens Marins).
A mon ami M. le docteur Quoy, chirurgien major, et l´un des zoologistes de l´expedition.
To my friend Dr. Quoy, surgeon, and one of the zoologists of the expedition.
NEW HOLLAND (BAIE DES CHIENS MARINS).
PAGE 453-454.
top