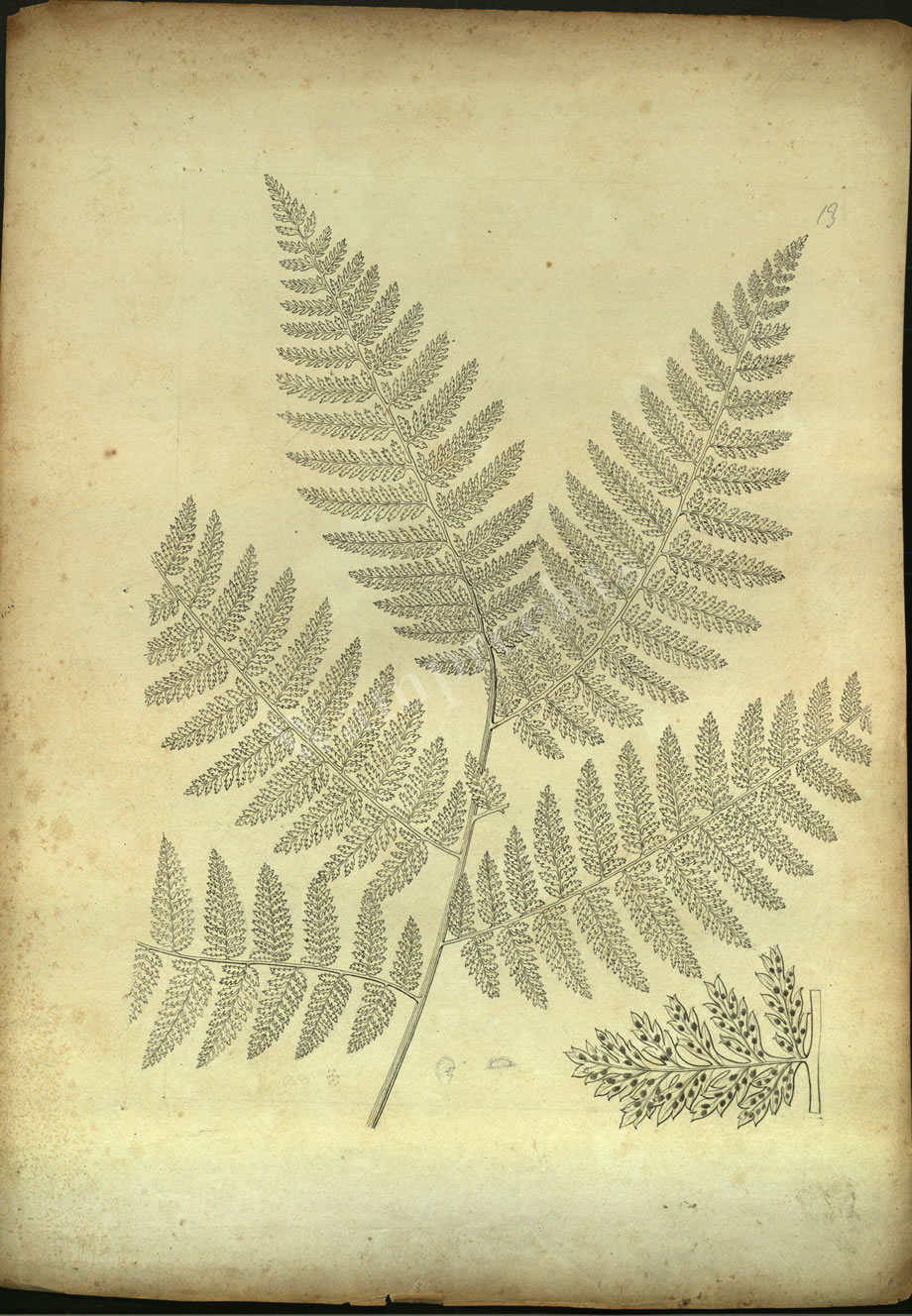 DRAWING NUMBER 13.
Artist: A. Poiret. Del.
Notes by Charles Gaudichaud Beaupré.
ASPLENIUM.
ASPLENIUM (athirium) POIRETIANUM.
Linn., Swartz. Asplenium poiretianum (athyrium).
A. Frondibus fasciculatis, decompositis, utrinque glabris (2-3-pedalibus) foliolis bipinatis ; pinnis ovato-lanceolatis, acutis, pinnatis, basi superiore auriculiformibus ; pinnulis lineari-lanceolatis, subcoadunatis, acutis, serrato pinnatifidis ; rhachi ramulisque submarginatis, margine laciniato-squamuliformibus ; soris subremiformibus, minutis, costae mediae aproximatis ; caulesubarboreo, prostato.
Incolarum.
In insulis Sandwicensibus (Alt .400-600 hexap), Owhyhi.
Je consacre cette espèce, comme un foible témoignage de ma reconnaissance, a M. Poiret, savant naturaliste voyageur, l´un des auteurs et seul continuateur de la partie botanique de l´ Encyclopédie, á qui la science doit encore un voyage en Afrique, une Histoire philosophique de la botanique, des Leçons de flore, &c.
I dedicate this species as a great testimony of my recognition, to M. Poiret, wise naturalist and traveler, one of the authors and the only successor of the botanical encyclopedia, to who the science owes a journey in Africa, a philosophical history of the botany, and the flora lessons, & c.
SANDWICH ISLANDS, OWHYHEE.
Page 321.
top