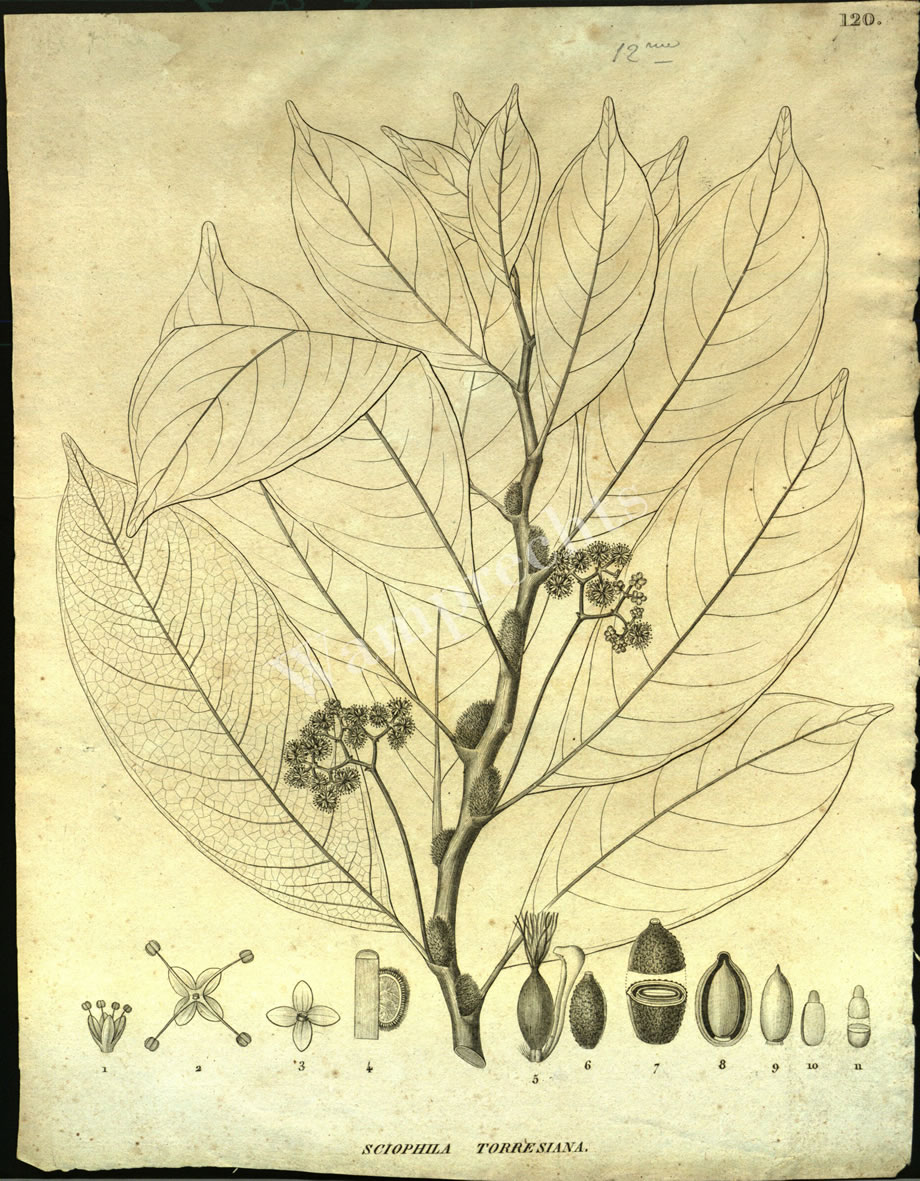 ENGRAVING TEST NUMBER 120, APPROVED FOR THE BOTANICAL ATLAS OF THE EXPEDITION LA URANIE-LA PHYSICIENNE 1817-1820.
Artist: A. Poiret. Del.
Notes by Charles Gaudichaud Beaupré.
URTICEAE, Jussieu.
S I.er ELASTOTEMEAE.
2. SCIOPHILA (2).
Flores masculi et feminei in eadem axilla, sessiles; masculi corymbosi, bracteâ parvâ suffulti ; feminei capitati, bracteâ majore cucullatâ instructi.
Masc. : Calix quadripartitus; laciniis ellipticis, obtucis. Pistilli rudimentum pezizaeforme. Fem. : Calix nullus.
Folia alterna, integerrima, basi obliqua.
1. SCIOPHILA TORRESIANA. Pl. 120.
S. foliis magnis oblongis, acuminatis.
Elastotema torresiana, olim.
(1) Raphides ! des auteurs.
(2) M. Robillard d´Argentelle a représenté une espèce de ce genre (sciophila frutescens, H. Mus.) dans sa magnifique collection artificielle des plantes d'i´lle-de-France.
(canceris cibus), ou (canceris cannamellea), incolarum.
In insulis Mariannis.
Species genuinae : procris cephalida, Comm. (H. Juss.) ; urtica salicifolia, v. mss. (H. Juss.); urtica sessifolia, Vahl.; elastotema sessile, Forst. (H. Mus.)
MARIANA ISLANDS.
PAGE 494.
top