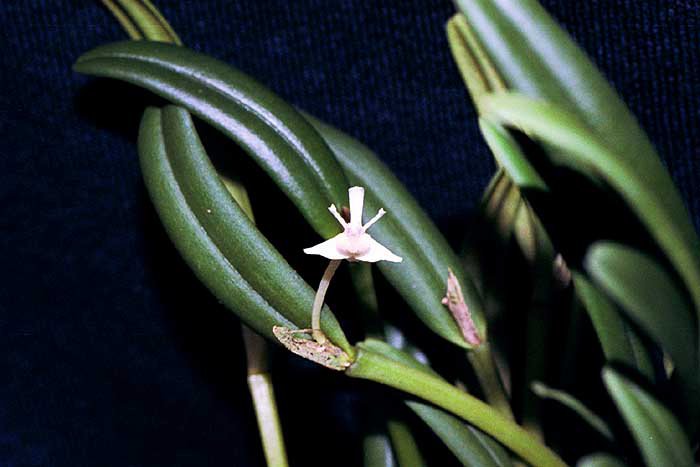 ENGRAVING NUMBER 33.
LOST ENGRAVING.
PLEASE CLICK HERE TO SEE THE DRAW AT THE SECTION OF DRAWINGS.
PLEASE CLICK HERE TO SEE THE IMAGE AT THE SECTION OF ARAGO.
Artist: A. Poiret. Del.
Notes by Charles Gaudichaud Beaupré.
CADETIA.
Calycis foliola inaequalia, exteriorum superius ovato-oblongum, galeato-concavum. Inferiora subrotundo-obovata, infernè labello adnata, supernè patentia; ex interioribus duo lineari-subulata, arcuata, libera; tertium (labellum) concavum, basi calcaratum, trilobum, lobis lateralibus minutis; calcar emarginatum. Colomella libera, aptera, internè canaliculata, utrinque appendice subuliformi aucta, apice ad utrumque latus infra antheram producta ibique bidenata.
Anthera terminalis, operculata, unilocularis, decidus. Massae pollinis duae cereae.
Herba parasitica. Caules fasciculati, simplices, vaginati, apice monophylli et pluriflori. Folium carnosum enervium, planum, cum vagina articulatum. Flores 6-10, pedicellati, fasciculati, albi. Capsula obovata echinato-tuberculosa.
Dendrobio ob habitum affinis, sat distincta structurâ floris.
CADETIA UMBELATA. Pl. 33.
In insulis Moluccis (Rawak.), ad arborum truncos.
J´ai consacré ce genre à la mémoire de Cadet de Gassicourt, auteur d´un Dictionnaire de chimie, du Formulaire magistral, &c.
I dedicate this gender to the memory of Cadet Gassicourt, author of a masterful Dictionary of Chemistry, & c.
MOLUCAS ISLANDS (RAWAK).
Page 423.
top