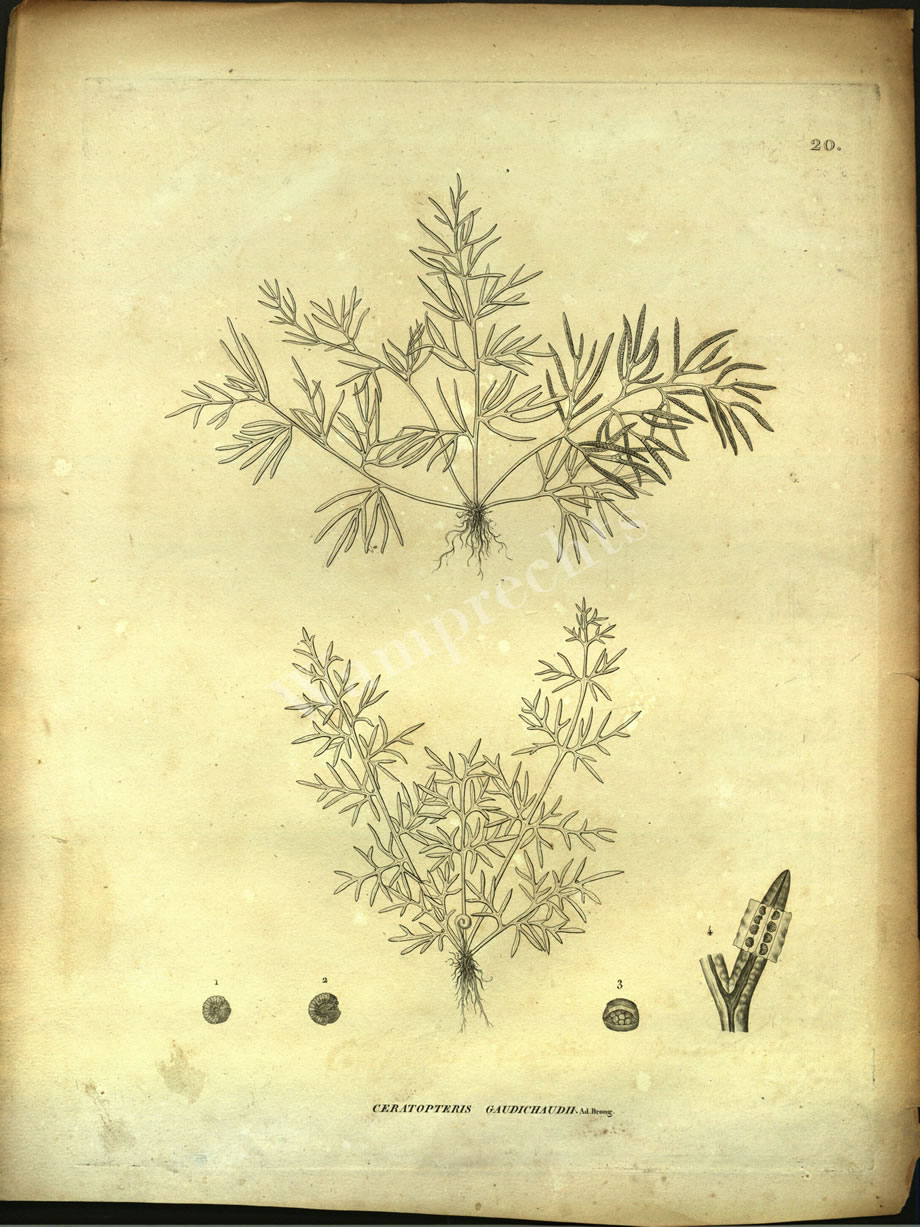 ENGRAVING TEST NUMBER 20, APPROVED FOR THE BOTANICAL ATLAS OF THE EXPEDITION LA URANIE-LA PHYSICIENNE 1817-1821.
Artist: A. Poiret. Del.
Notes by Charles Gaudichaud Beaupré.
CERATOPTERIDEAE
The engraving also appears identified as: Ceraptoteris gaudichauniana.
CERATOPTERIDEAE. Ad. Brongn.
Acrostichi spec.Linn; Rumph.
Pteridis spec.Swartz; Willd.
Teleozoma. R. Brown, in App. Ad Ltin. Franklin. 1823.
Ellobocarpus. Kaufuss, Enum. Fil. Pag. 147.
Furcaria. Desvaux. Enum. Fil. Pag. 292.
1. Ceraptoteris Gaudichaudii. Pl. 20.
C. Gaudichaudii. Ad. Brogn. Bull. Soc. Philom. Nov 1821.
Ellocarpus cornutus! Kaulfuss, Enum. Fil. Pag. 148.
Pteris cornuta! Pal de Bauv. Fl. D´Oware et de Benin, pag. 63, pl. 38 ; Willd.
Incolarum.
In insulis Mariannis. (Guam.).
Ce genre, entrevu et signalé depuis long tempes par R. Brown, Prodr. Flor. Nov-Holl. Pag. 154, a été publié en 1819, sous le nom d´ellobocarpus, par M. Kaulfuss ; en 1821, sous le nom de ceraptoteris, par M. Adolphe Brongniart ; en 1823, sous le nom de teleozoma, par M. Brown ; et en fin en 1827, sous le nom de furcaria, par M. Desvaux.
MARIANA ISLANDS (GUAM).
PAGES 393-394.
top