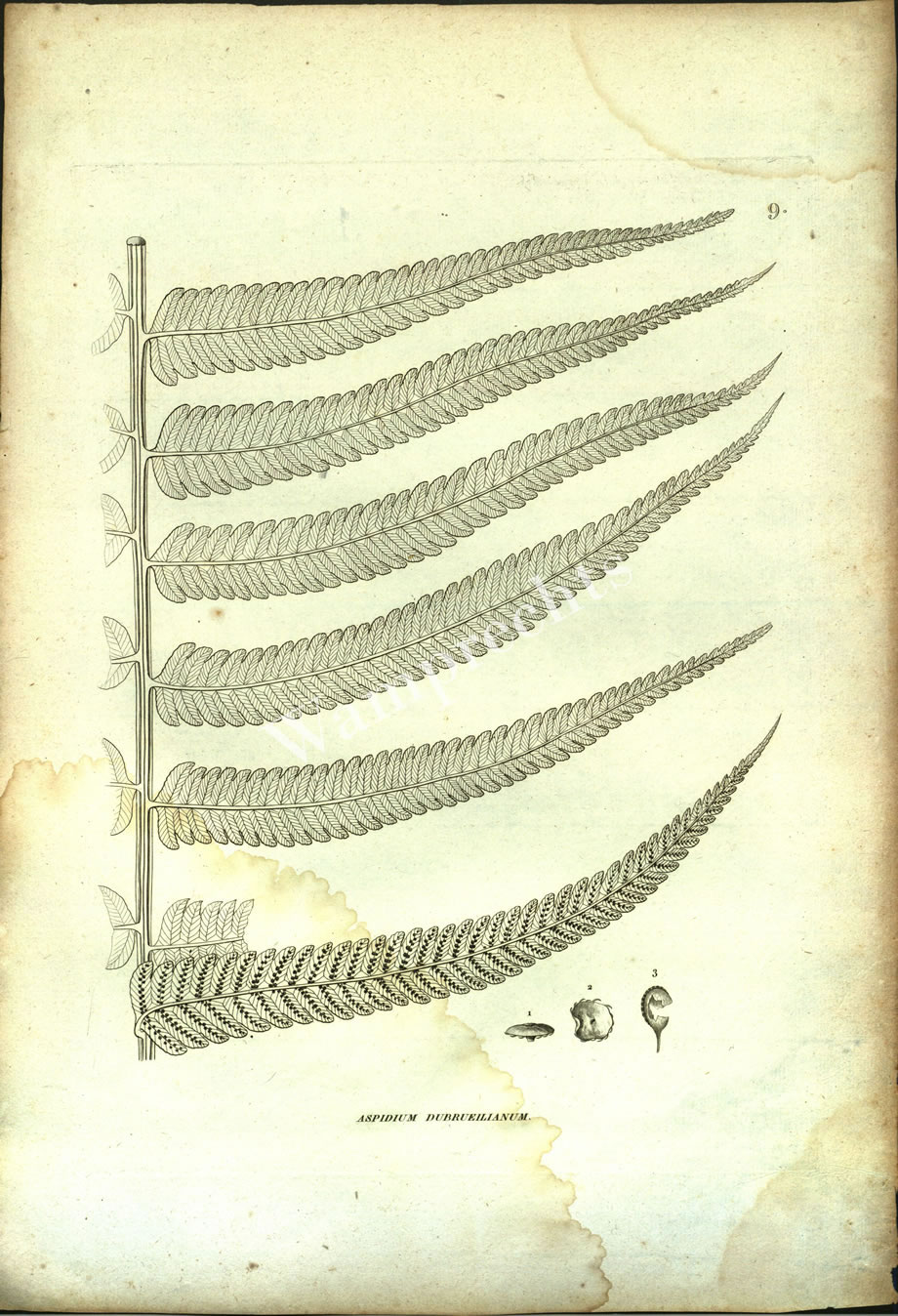 ENGRAVING TEST NUMBER 9, APPROVED FOR THE BOTANICAL ATLAS OF THE EXPEDITION LA URANIE-LA PHYSICIENNE 1817-1820.
Artist: A. Poiret. Del.
Notes by Charles Gaudichaud Beaupré.
POLYSTICHUM.
The engraving also appear identified as: Aspidium dubrueilianum.
Page 341 Aspidium.
POLYSTICHUM DUBRUEILIANUM. Pl. 9.
P. frondibus fasciculatis (4-5-pedal.) ; pinnis lanceolatis (6-8-poll.), acuminatis, basi truncatis, subpinnatifidis, utrinque glabris ; laciniis ovato-falcatis, subacutis ; infimis maximis ; soris minutis, biserialibus, costae mediae approximatis ; indusio peltato, ciliato ; stipite rhachique glabriusculis.
(Aspidium dubrueilianum, Gaudichaud, mss.)
Incolarum.
In insulis Sandwicensibus (Alt 450 hexap.).
Je consacre cette belle espèce à M. Dubreil, ex-médecin de la marine, professeur d´anatomie a la faculté de médecine de Montpellier, comme un témoignage d´attachement sincère.
I dedicate this beautiful species to M. Dubrueil, ex-physician of the marine, professor of anatomy of the medicine faculty of Montpellier, as a sincere friendship testimony.
SANDWICH ISLANDS.
PAGE 333.
top