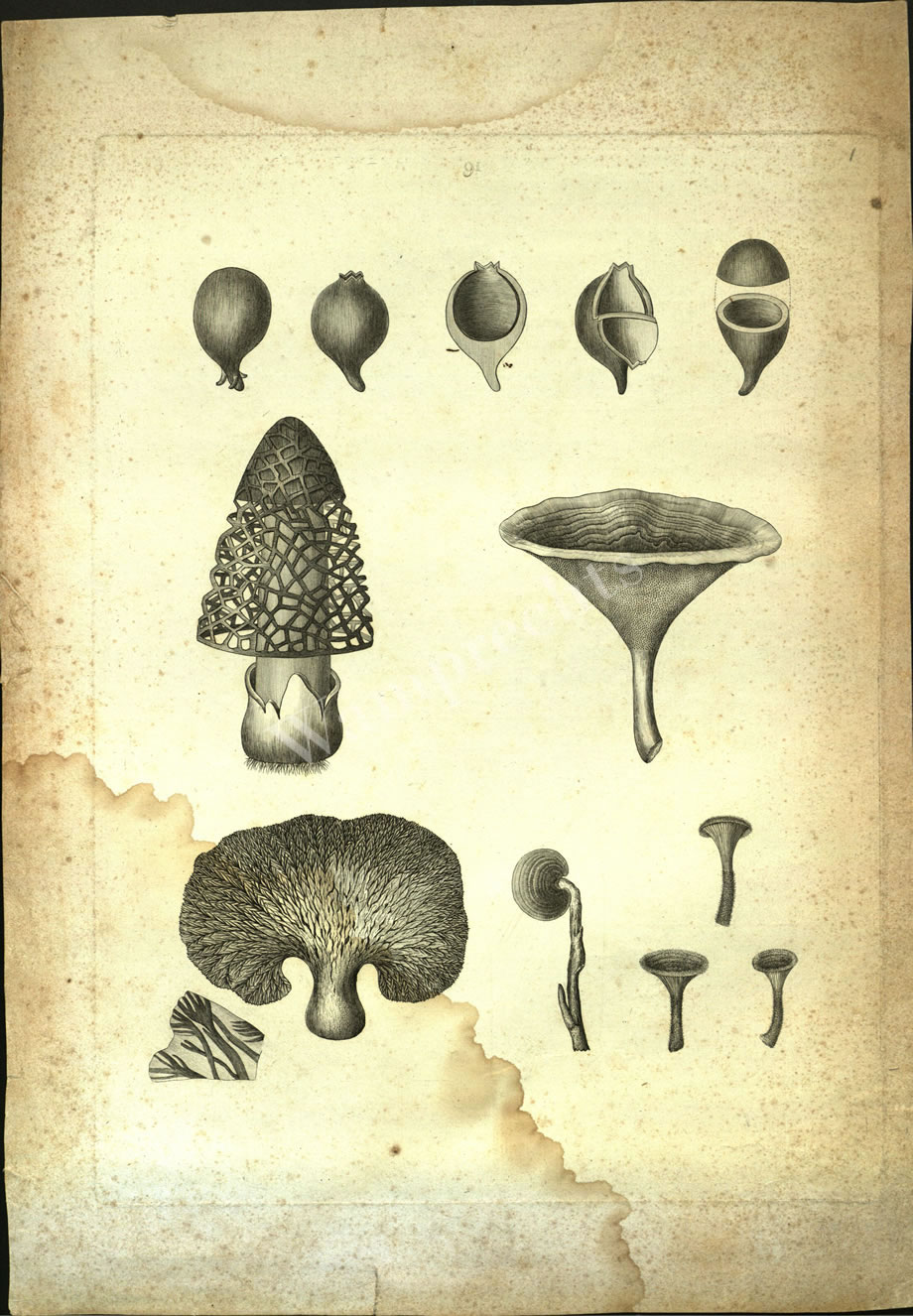 ENGRAVING TEST NUMBER 1.
Artist: A. Poiret. Del.
FUNGI.
Linn, Pers. Agaricus strigopus. Pages 167-168 Plate 1 fig.6 RAWAK ISLAND
Micheli, Pers.- Boleti species, Lin. Polyporus saccatus. Page 169 Plate 1 fig. 3 MARIANNE ISLANDS.
Micheli, Pers, - Boleti species, Lin. Poliporus auriscalpium. Page 169 Plate 1 fig. 5 RIO DE JANEIRO.
Swartz, Pers. Thelephora dendritica. Page 176 Plate 1 fig. 4 RAWAK ISLAND
Pers. Sophronia brasiliensis. Pages 178-179 Plate 1 fig. 2 BRASILIÂ, RIO DE JANEIRO.
Linn. Lycoperdom arenianum. Page 179 Plate 1, fig. 2 FALKLAND ISLANDS
BELOW THE EXPLANATORY TABLE OF THE PLATES IN THE BOTANICAL ATLAS OF THE JOURNEY AROUND THE WORLD.
Fig.1 Lycoperdon arenarium. (Endoporus arenarius).
1 Whole, with branches radicifères.
2 Whole without branches radicifères, opened to the summit in 3-5 lobes.
3 The same, coupe vertically, black internal part, sporuliforme.
4 The same, coupe vertically, with its shred.
5 The same, coupe horizontally. The internal black line is not marked enough.
Fig 2 Sophronia brasiliensis.
Fig.3 Polyporus saccatus.
Fig.4 Thelephora dendritica.
1 Frament seen to the microscope.
Fig.5 Polyporus auriscalpium.
Fig.6 Agaricus strigopus of different sizes.
DRAWING 1.
Note: Scientific & personal notes of Gaudichaud.
top