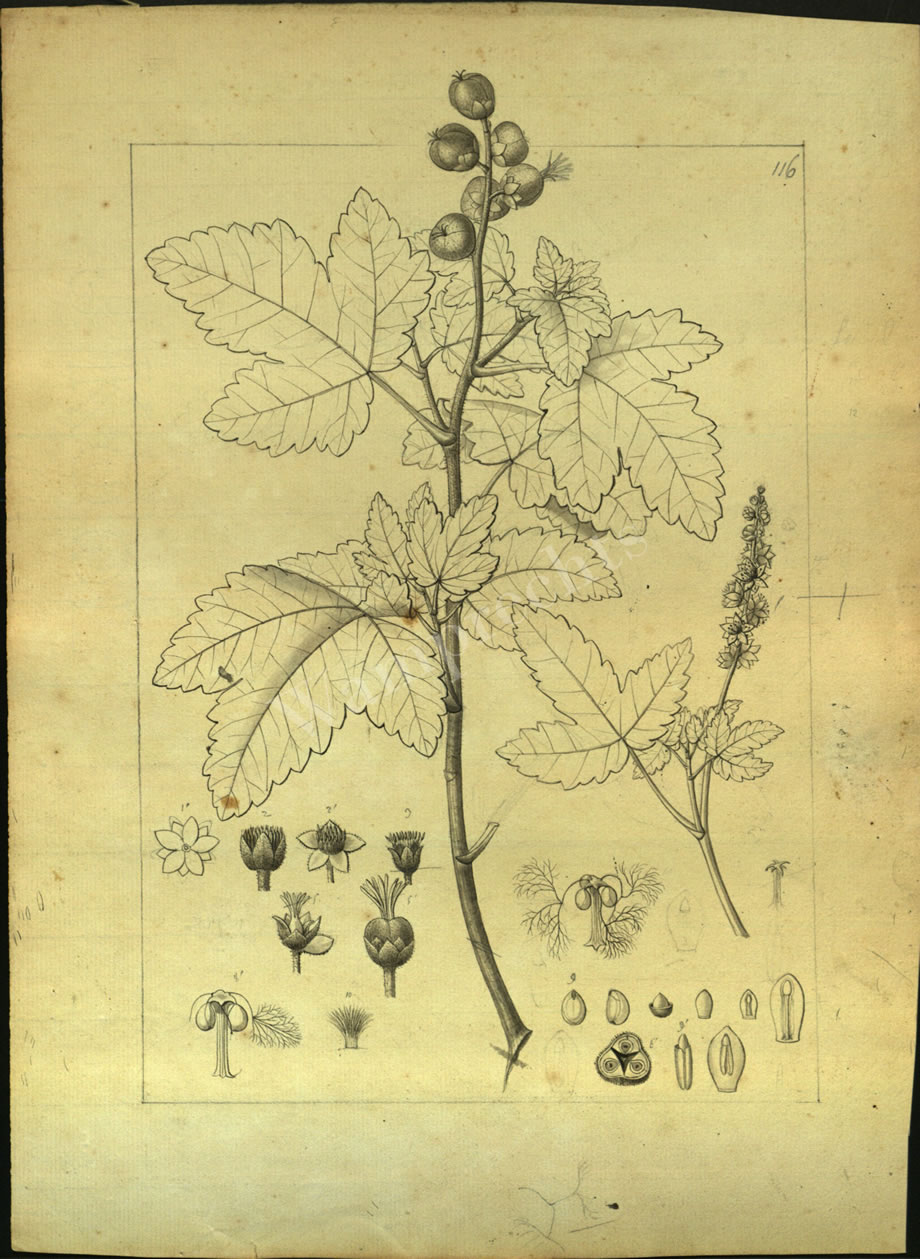 DRAWING NUMBER 116.
Artist: A. Poiret. Del.
Notes by Charles Gaudichaud Beaupré.
EUPHORBIACEAE, Jussieu.
ADRIANA.
Flores dioeci; Masc, : basi 3-5-bracteati, bracteis imbricatis, inaequalibus. Calix simplex, profundè quinquepartitus, irregularis (praefloratio valvata). Petala et glandulae nullae. Stamina creberrima, repectaculo convexo inserta. Filamenta brevia, libera, in alabastro recta. Antherae oblonge, biloculares, basi affixae, erectae, internè secundùm, longitudinem dehiscentes; connectivum apice in ligulam pilosam productum. Pistilli rudimentum nullum.
Flores fem. Bracteati. Calix duplex, uterque profundè quinquepartitus, subregularis, persistens. Ovarium sessile, ovatum, triloculare; ovulis solitariis, ex angulo interiore pendulis. Styli 3, profondè bipartiti, pilosi. Capsula tricocca; coccis monospermis, bivalvibus; axi centrali persistente libero. Semen testâ crustaceâ obtectum, pendulum, ad apicem carunculâ ruberculiformi instructum. Embryo in axi endospermii carnosi. Radicula supera.
Frutices inermes, tomentosi; pilis fasciculatis; folia alterna, petiolata, petiolo ad basim utrinque glanduloso, integra vel 3-5-loba. Flores spicati, terminales; masculi sessiles, feminei pauciores breviter pedicellati.
J´ai consacré ce genre au digne héritier d´un grand nom, à M. Adrien de Jussieu, professeur de botanique rurale au Jardin du Roi, auteur de travaux importants sur les euphorbiacées, les rutacées, &., &.c.
I dedicate this genus to the worthy heir of a big name, Mr. Adrien de Jussieu, professor of farming botany to the king's garden, author of important works on the euphorbiacées, the rutacés, &c., &c.
1. ADRIANA TOMENTOSA. Pl. 116.
A. Foliis-vel quinquelobis, utrinque tomentosis, lobis dentato-crenulatis ; pilis densè fasciculatis.
In Nova-Hollandie orâ occidentali (baie des Chiens Marins).
EASTERN NEW HOLLAND (BAIE DES CHIENS MARINS).
2. Adriana glabrata.
A foliis eliptico-oblongis integris vel trilobatis, supernè gabriusculis, subtús tomentosis, margine crenulato-laciniatis, sub revolutis; pilis stellatis fasciculatisve.
In Nova-Hollandiae ora orientali (Hawkesbury river).
PAGES 486-487.
top