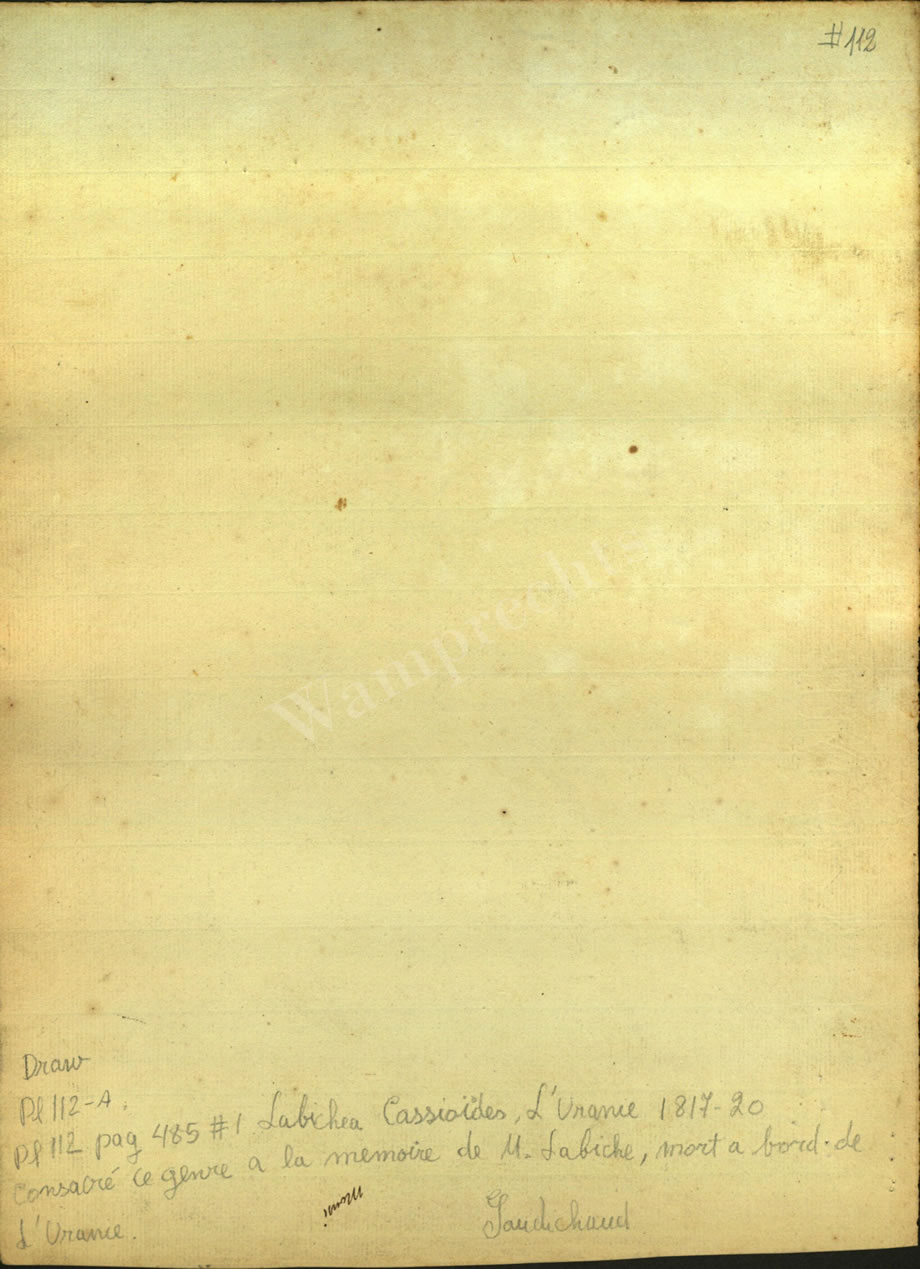 DRAWING NUMBER 112-A, REVERSE.
Artist: A. Poiret. Del.
Notes by Charles Gaudichaud Beaupré. (a)
LABICHEA.
Calix pentaphyllus, subregularis, deciduus. Petala 5, subrotundo obovata, subunguiculata, subaequalia, calycem superantia patentia. Stamina duo, hypogyna. Filamenta brevissima. Antherae biloculares, crassae, arcuatae, inaequales poro suboperculato dehicentes. Ovarium breviter stipitatum obliquè ovato-oblongum, compresum, in stylum subulatum adscendentem desinens. Ovula 2, superposita. Stigma simplex. Fructus……………..
Frutex inermis. Folia alterna sessilia, impari pinnata, foliolis 1-3- jugis oppositis lanceolatis, mucronatis, coriaceis. Stipulae petiolares minutae. Racemi terminales, pluriflori. Flores alterni, pedicellati, pedicellis basi bracteatis.
1. Labichea cassioïdes. Pl. 112.
In Novae-Hollandiae orâ occidentali (baie des Chiens-Marins).
L. cassioïdes, Decand,Prodr. 2 pag. 507.
J´ai consacré ce genre à la mémoire de M. Labiche, officier de la marine royale, mort à bord de l´Uranie, dans le voisinage des iles Moluques.
I dedicated this genus to Mr. Labiche, officer of the royal marine, dead on board of the Uranie, in the proximities of the Moluques islands.
MOLUCAS ISLANDS.
Page 485.
top