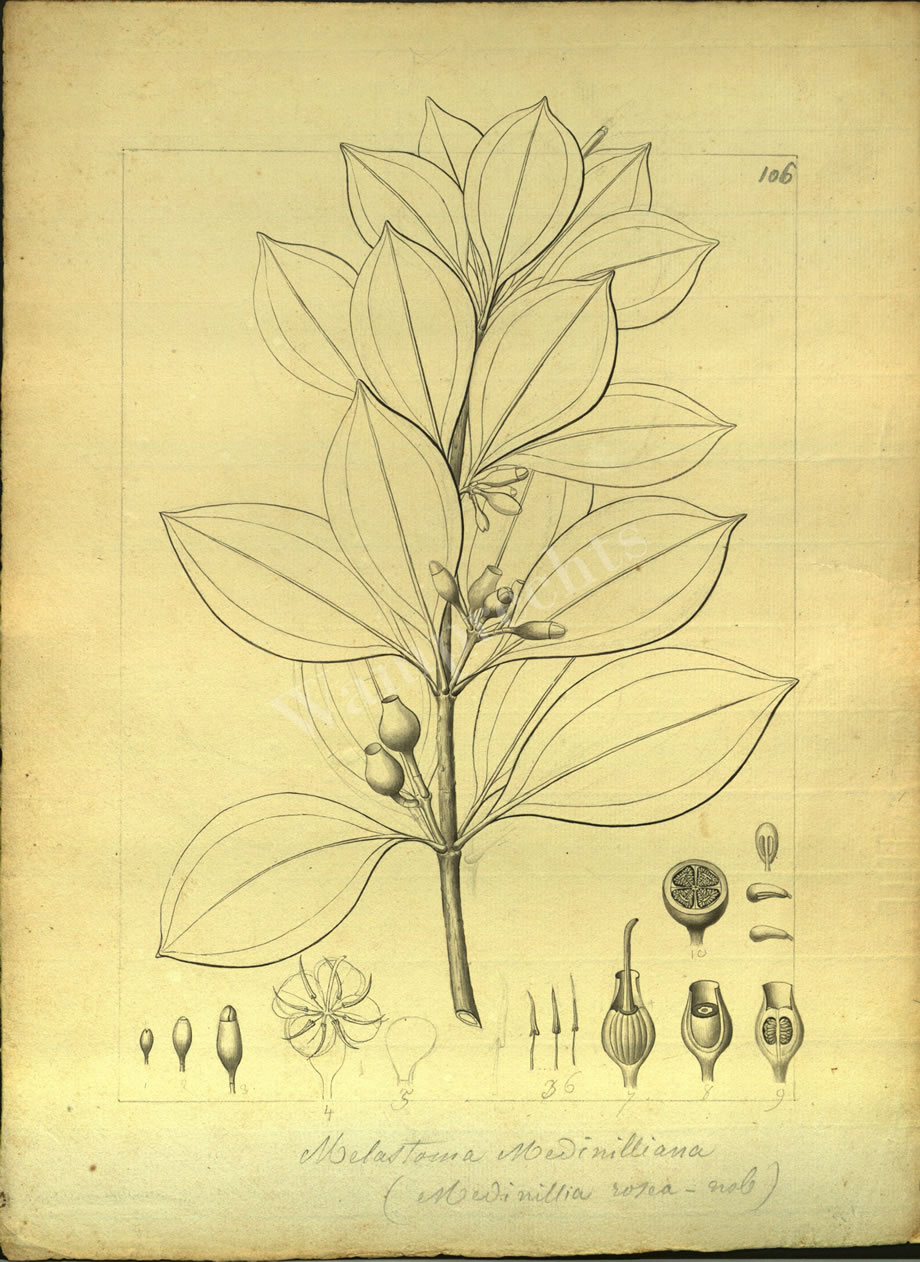 DRAWING NUMBER 106.
Artist: A. Poiret. Del.
Notes by Charles Gaudichaud Beaupré.
MELASTOMEAE, Jussieu.
MEDINILLA.
Calix ventricoso-ovatus, adnatus ; limbo, tubuloso, truncato, intergerrimo, persistente. Petala quator ad marginem disci epigyni inserta, dolabriformi-ovata, patentissima, aequalia. Stamina octo, ibidem inserta. Filamenta filiformia, glabra. Antherae linearisubulatae, subarcuatae, biloculares, poro terminali dehiscentes, basi bilobae et connectivo producto breviter caudatae ; alternae (petalis opositae) longiores, teniuores et effetae ? Stylus teres, erectus, apice parum curvatus. Stigma simplex, obtusum. Bacca ovato-globosa, limbo calycino coronata, quadricularis ; loculis polyspermis. Semina ovata, laevia, rectiuscula.
Frutex glaber ; ramis teretibus. Folia terna aut quaterna, integerrima, trinervia. Pedunculi axillares apice 6-8-flori. Flores umbellati , pedicellati, rosei; pedicellis basi articulatis. Baccae roseae.
1. MEDINILLA ROSEA. Pl. 106.
Melastoma medillana. Olim, Pag. 69 et 73.
Incolarum.
In insulis Mariannis.
Hommage de reconnaissance à D. José de Medinilla y Pineda, gouverneur des îles Mariannes, qui nous a prodigué les soins et les secours les plus empressés.
Tribute of appreciation to D. Jose de Medinilla y Pineda, governor of the Marianas Islands, who has lavished care and assistance the most eager.
MARIANA ISLANDS
PAGES 484-485.
top