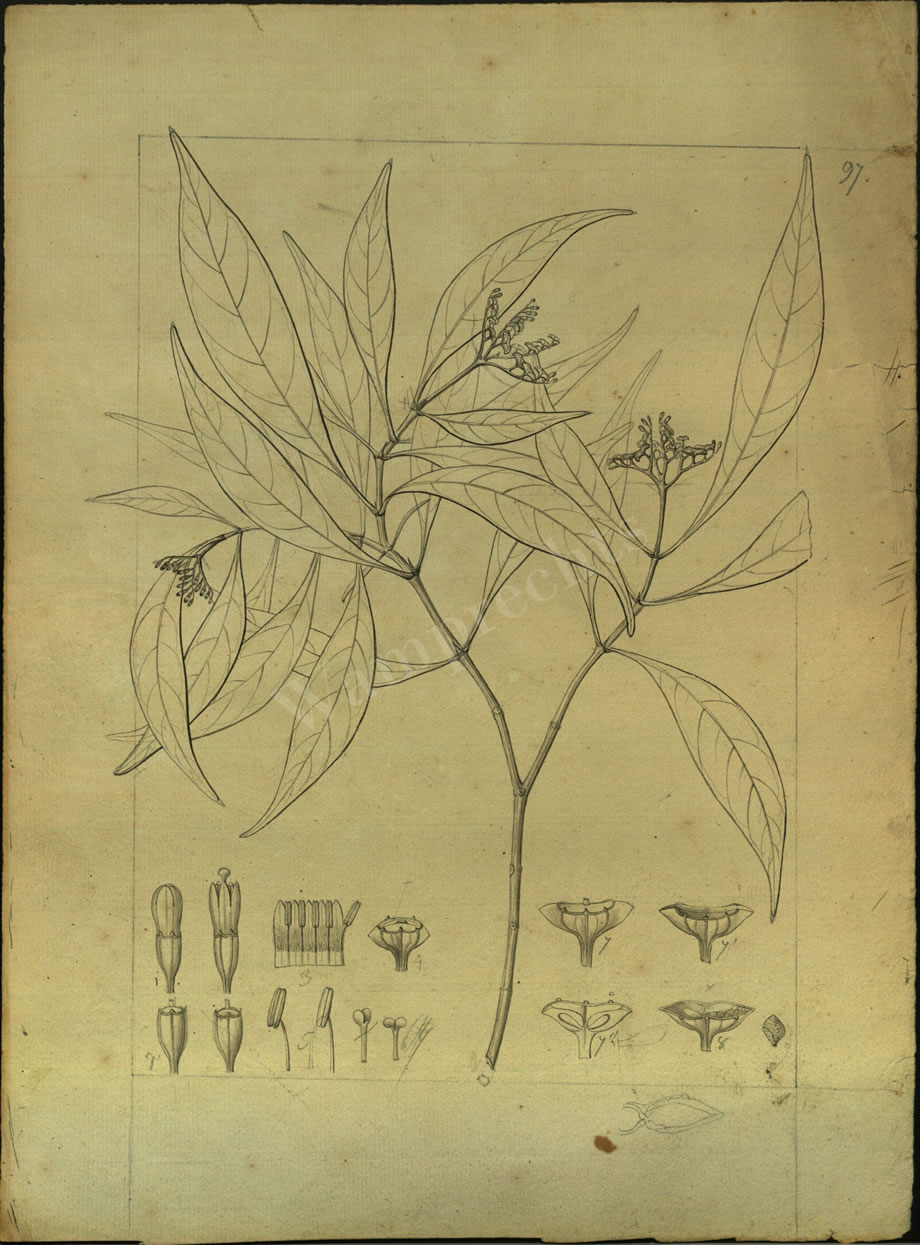 DRAWING NUMBER 97.
Artist: A. Poiret. Del.
Notes by Charles Gaudichaud Beaupré.
OPHIORHYZA, Ach. Richard.
Calix turbinatus cum ovario infero cohaerens, quinquedentatus. Corolla tubulosa subindibuliformis, quinquefida. Stamina quinque, inclusa. Ovarium biloculare, disco epigyno bilobo coronatum, loculis polyspermis ; trophospermio cylindraceo basilari, pedilacellato, ovulis numerosissimis et densis obtecto. Stylus brevis, simplex. Stigma bifidum. Capsula compressa, subdiptera, dentibus calycis discoque coronata, bilocularis, polysperma, apice transversim dehiscens.
Caulis herbaceus aut frutescens; folia opposita; flor. minimi spicato corymbosi. A. Richard, Mém. De la Soc. D´hist. nat de Paris, tom. I, I.re partie, pag. 67, tab. 2.
1. OPHIORHYZA RICHARDIANA. Pl. 97.
O. foliis lanceolatis, parum obliquis, longè acuminatis, membranaceis, glabris.
In insulis Moluccis. (Rawak).
J´ai consacré cette espèce à M. Achille Richard, professeur agrégé à la faculté de médecine de Paris, à qui la science botanique et la matière médicale doivent de nombreux et important travaux.
I have dedicated this species to Mr. Achille Richard, aggregated professor of the faculty of medicine of Paris, who's the botanical science owe infinites and important works.
MOLUCAS ISLANDS. (RAWAK).
PAGE 473-474.
top