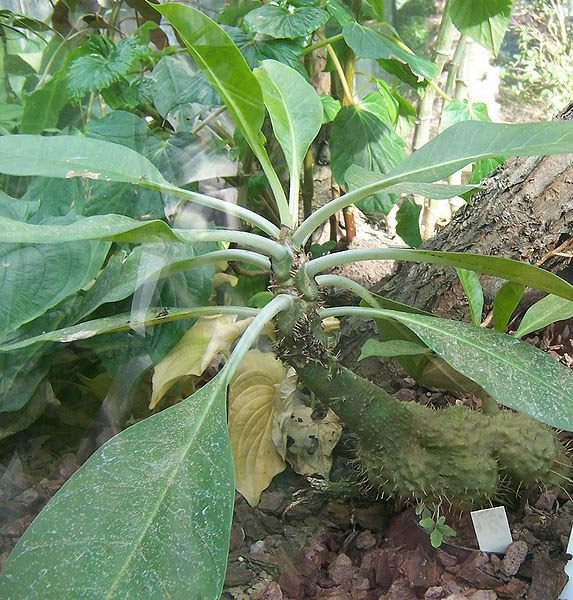 DRAWING NUMBER 95.
LOST DRAWING.
PLEASE CLICK HERE TO SEE THE IMAGE AT THE SECTION OF ENGRAWINGS.
Artist: A Poiret. Del.
Notes by Charles Gaudichaud Beaupré.
RUBIACEAE, Jussieu.
HEDYOTIS, L.
MIRMECODIA.-Mirmecodia et Hydnophitum, Jack.
Calix: margo obsoletus, integer, ovarium coronans. Corolla tubuloso-infundibuliformis; limbo quadrifido, regulari, fauce pilosâ. Stamina 4. Fauci corollae inserta; antheris exsertis. Stylus I. Stigma bipartitum; laciniis integris vel apice 3-4-lobis. Bacca ovato-elliptica, 2-5-sperma.
Plantae parasiticae, basi tuberosae, glabrae. Caules suffruticosi, quadrangulares, simplices. Folia opposita. Flores axilares, Gemini-quaterni, pedunculati, albidi.
MIRMECODIA INERMIS. Pl. 95.
M. foliis breviter petiolatis obtusis; stipulis interpetiolaribus, integris, inermibus; fructibus dispermis.
Hydnophytum (2) formicarum . Jack, Trans. Linn. XIV, pag. 124, (1825).
Nidus germinans formicarum niger. Rumph. Amb. VI, pag. 119, tab. 55, f. I.
In insulis Moluccis (Rawak), ad arborum truncos
1. Mirmecordia. Calix subinteger. Corolla quadrifida, tubo intùs ad insertionem staminum piloso. Stamina quatuor, corollá breviora. Stylus staminibus longior. Stigma simplex. Bacca ovata, quadrilocularis, tetrasperma. Parasitica basi tuberosa, flores basibus, petiolorum semitecti. Jack, L. c.
2. Hydnophytum. Calix integer. Corolla limbo 4-fido, fauce pilosâ. Stamina 4, brevia, fauci inserta. Stigma bifidum. Bacca disperma. Super arbores parasitica, basi tuberosa, floribus axillaribus. Jack. L. c.
MOLUCAS ISLANDS.
PAGE 472.
top