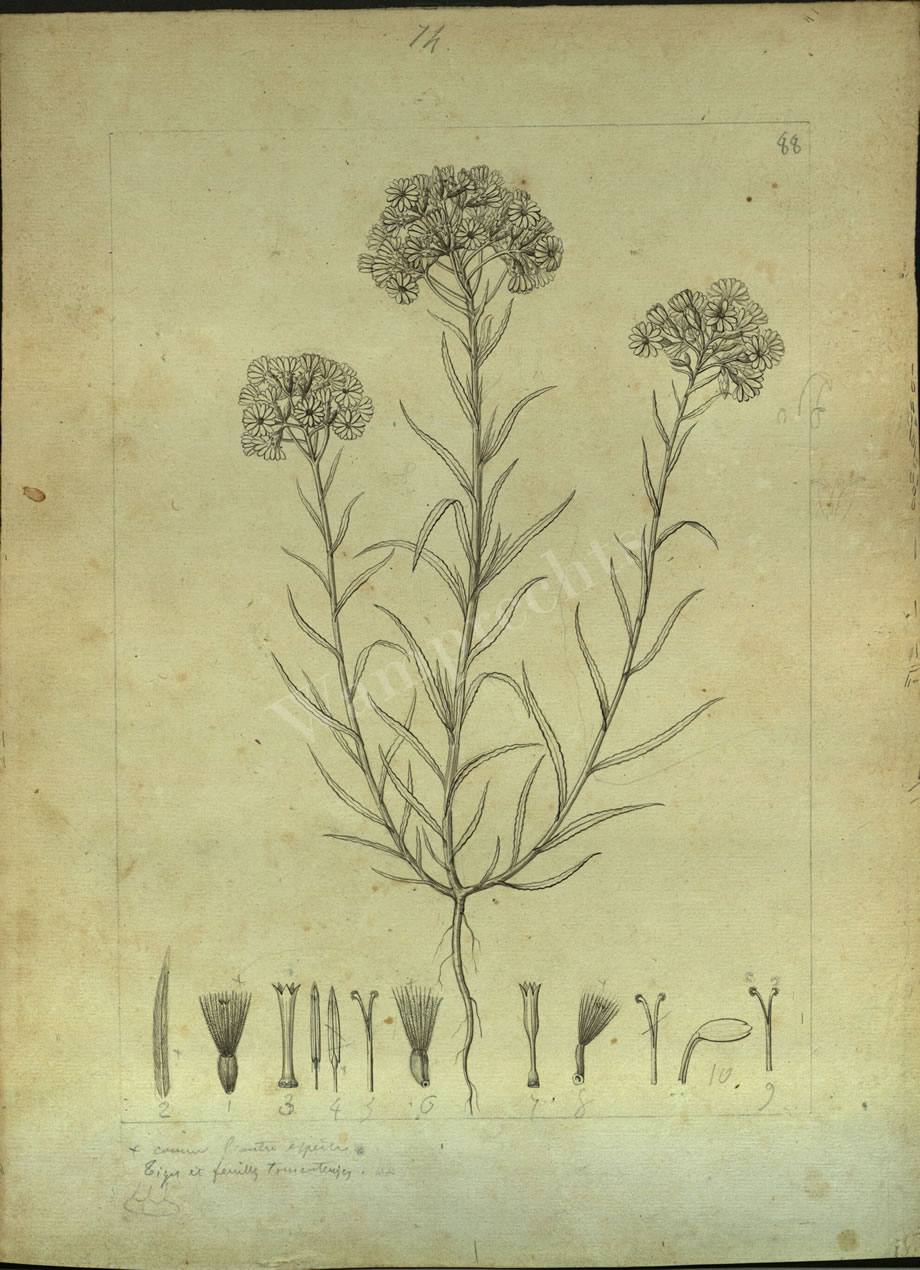 DRAWING NUMBER 88.
Artist: A. Poiret. Del.
Notes by Charles Gaudichaud Beaupré.
ELICHRYSUM, Willd.
1. ELICHRYSUM HUMBOLDTIANUM. Pl. 88.
E. caulibus erectis, basi ramosis ; foliis lineari-lanceolatis, margine undulato-crispis, suprà canescenti-tomentosis, subtùs albo-lanatis ; corymbis terminalibus, subcapitatis ; involucris glabris, scariosis, aurantiacis ; pappo subplumoso.
In Nova-Hollandiae orâ occidentali (baie des Chiens Marins).
EAST NEW HOLLAND. (AUSTRALIA).
Au célèbre Alex. De Humboldt, hommage de reconnaissance.
To the famous Alex. von Humboldt, a tribute of gratitude.
ELICHRYSUM CASSINIANUM. Pl. 87.
E. caule simplici, erecto ; follis lineari-lanceolatis, integerrimis, utrinque hirtelis ; corymbo terminali, ramoso ; involucro glabro oblongo, albo-radiato.
In Nova-Hollandiae orâ occidentali. (baie des Chiens Marins).
WESTERN NEW HOLLAND (AUSTRALIA).
J´ai offert cette espèce, en témoignage de ma profonde reconnaissance, au savant auteur de la Synanthérologie, M. H. de Cassini, qui a bien voulu me diriger dans l´étude des plantes de cette famille.
I offered this species in testimony of my deep recognition to the scientist author of the Synantherologie, Mr. H. de Cassini who was willing to direct me in the study of this family's plants.
PAGES 465-466.
top