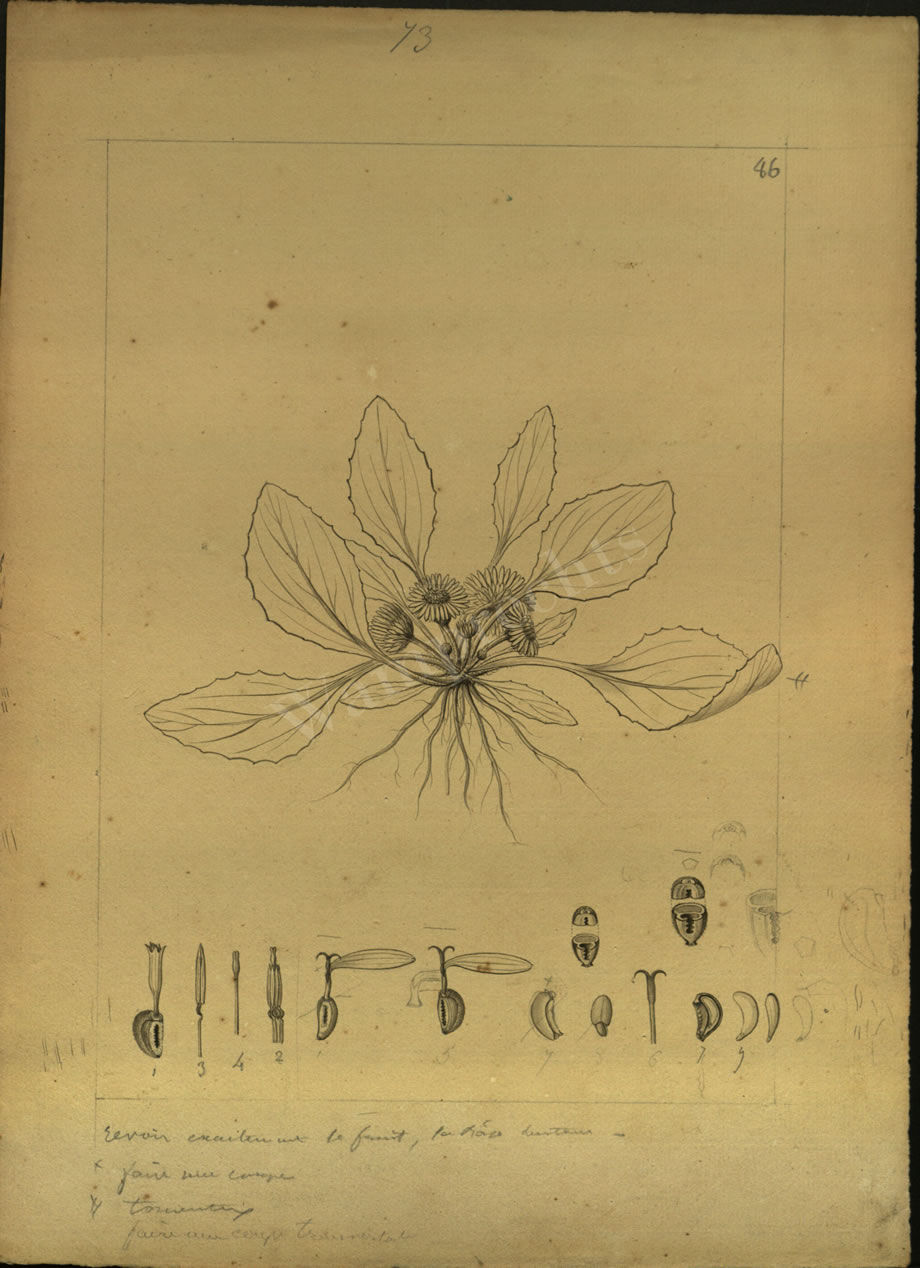 DRAWING NUMBER 86.
Artist: A. Poiret. Del.
Notes by Charles Gaudichaud Beaupré.
ARCTOTIDEAE, H. Cassini.
CYMBONOTUS, H. Cass.
Involucrum hemisphaericum, polysphyllum, imbricatum. Receptaculum laciniato-faveosum. Flores disci hermaphroditi, tubulosi; radii crebri, ligulati, feminei. Fructus hemisphaerici, apice nudi; marginibus lateris exterioris plani revolutis loculumque vacuum efformantibus.
Herba acaulis. Folia spathulata, remotè denticulata, subtùs albolanata. Pedunculi complures, scapiformes, uniflori, Flores flavi.
CYMBONOTUS LAWSONIANUS. Pl. 86.
Cymbonotus. H. Cassini, Opusc. 2. Pag. 65.
In Nova-Hollandiae orâ orientali (Port-Jackson), Bathurst).
Hommage de reconnaissance à M. Lawson, officier anglais, qui, `a la Nouvelle-Galles du Sud, nous a guidés dans notre voyage du Port-Jackson aux Montagnes-Bleues et à a Barthurst.
Tribute of recognition to Mr. Lawson, English officer of the New South Wales who guide us in our journey of Port Jackson to the Blue Mountains and Barthurst.
EAST NEW HOLLAND (AUSTRALIA).
PAGE 456.
top