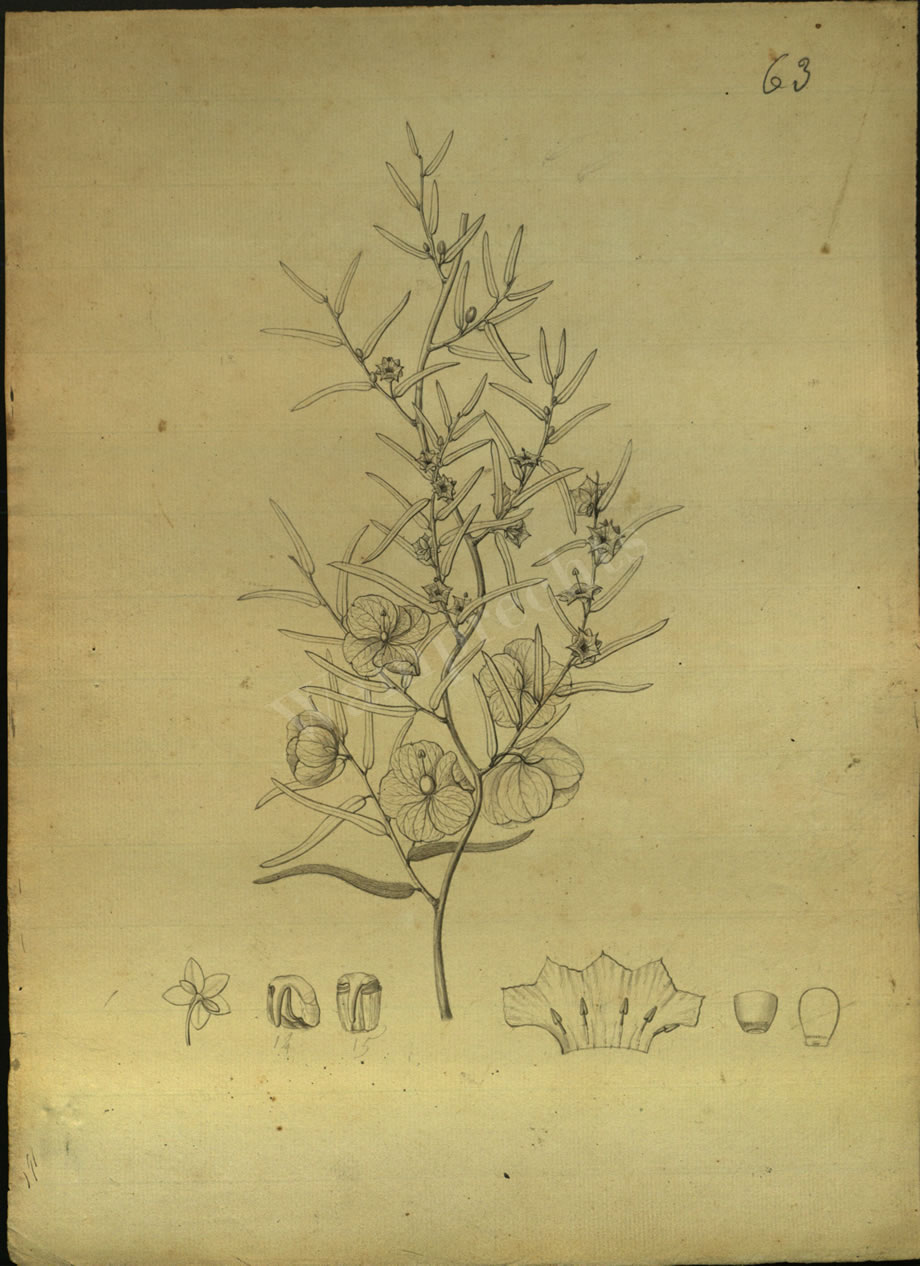 DRAWING NUMBER 63.
Artist: A. Poiret. Del.
Notes by Charles Gaudichaud Beaupré.
CONVOLVULACEAE, Jussieu.
DUPERREYA.
Calix quinquepartibus bracteis duabus minoribus suffultus, in fructu persistens grandefactus membranaceus, reticulato-nervosus, patens.
Corolla subinfundibuliformis plicato-quinqueloba, calyce vix amplior. Stamina 5, tubo corollae inserta, inclusa. Ovarium ellipticum unilocu lare ! Stylus filiformis, exsertus. Stigma magnum crassum, trigono-subcordiforme. Capsula eliptica, non dehiscens, membranacea, monosperma. Semen fundo cavitatis affixum, sessile, ellipticum. Albumen tenue, mucilaginosum. Cotyledones corrugato-plicatae. Radicula inflexa, infernè spectans.
Fruticulus. Foliis alternis, angustis, sericeis ; floribus axillaribus solitariis peduncularis, subracemosis, caerulescentibus.
DUPERREYA SERICEA. Pl. 63.
In Nova–Hollandiae ôra occidentali (baie des Chiens Marins.).
A M. Louis Isidore Duperrey, officier de la marine royale ; témoignage d´attachements et de reconnaissance pour les plantes qu´il a bien voulu collecter pour moi la plupart de ses courses hydrographiques.
To Mr. Louis Isidore Duperrey, officer of the royal marine; in testimony of attachment and recognition for the plants that he collect for me in most of his hydrographic expeditions.
SANDWICH ISLANDS.
PAGE 452.
top