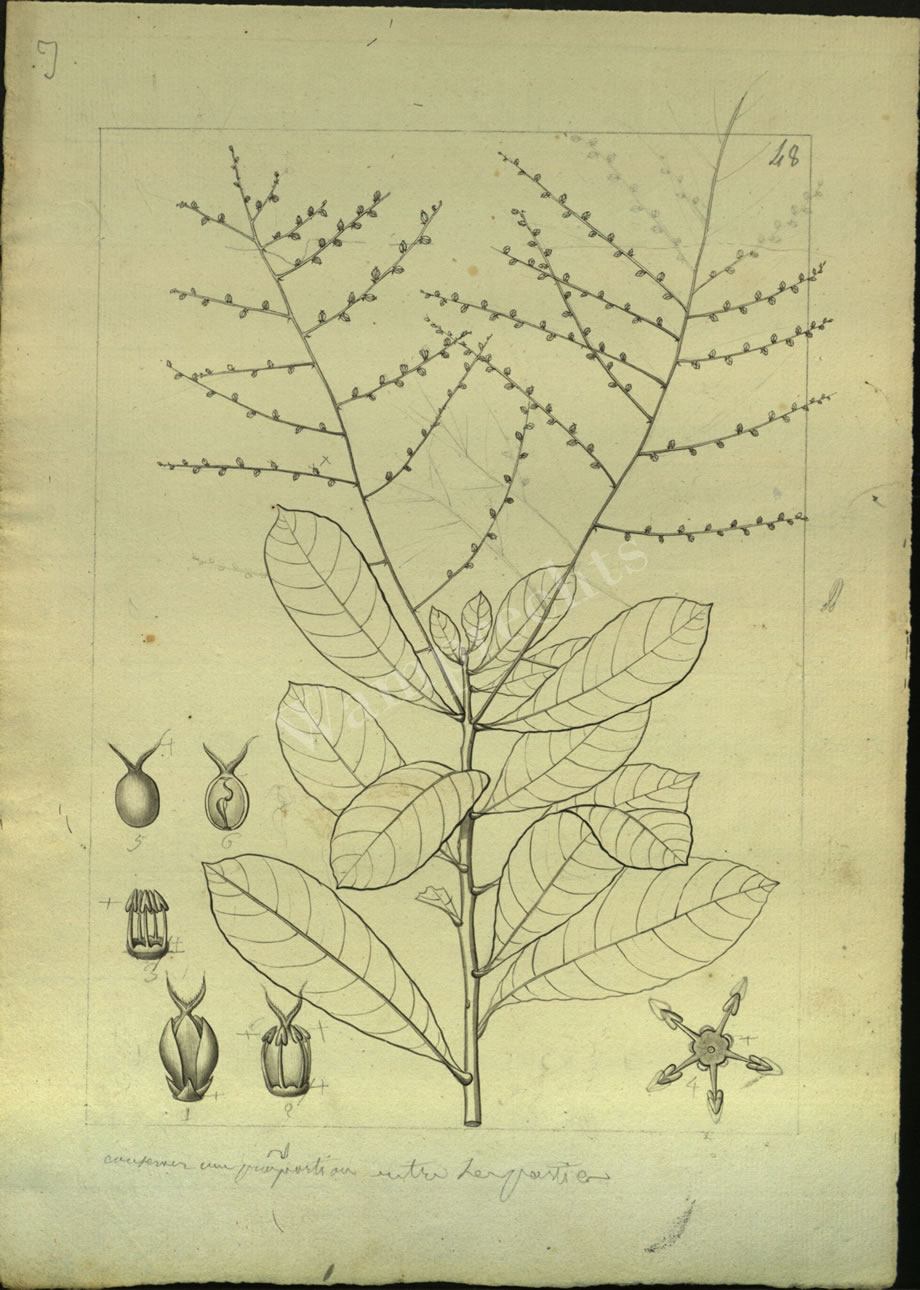 DRAWING NUMBER 48.
Artist: A. Poiret. Del.
Notes by Charles Gaudichaud Beaupré.
AMARANTHACEAE, Jussieu.
CHARPENTIERA.
Flores hermaphroditi. Calix quinquepartitus, subregularis, tribracteatus. Corolla nulla. Stamina quinque, basi in urceolum ovario breviorem connata, interjectis totidem rotundatis. Antherae cordatae, biloculares. Ovarium piryforme, tardiùs ovoideum, mono; spermum; ovulum podospermio spathulato cucullato suffultum. Stylus nullus. Stigma profundè bipartitum, lacinis subulatis, internè villosis, parulis. Capsula membranacea, ovoidea, monosperma, evalvis. Semen reniforme.
Frutices vel arbusculae. Folia alterna, integra, intergerrima; spiéae
Paniculatae, graciles; paniculis axillaribus, bracteolatis.
Chamissoae proxima; distincta calyce subregulari, urceolo stamineo lobato, stigmate sessili, capsulâque evalvi.
J´ai consacré ce genre à la mémoire de mon ami M. Charpentier, pharmacien en chef de la marine, et l´un de ses professeurs les plus distingués.
I dedicate this genus to the memory of my friend M. Charpentier, chief pharmacist of the navy, and one of its most distinguished professors.
1. CHARPENTIERA OBOVATA. Pl. 48.
C. foliis breviter petiolatis, oblongis ; paniculis simplicibus.
In insulis Sandwicensibus. (Alt.500-600 hexap.).
SANDWICH ISLANDS.
PAGE 444.
2. CHARPENTIERA OVATA. Pl. 47.
C. foliis longè petiolatis, ovato-ellipticis ; paniculis compositis.
In insulis Sandwicensibus. (Alt. 500-600 hex.).
SANDWICH ISLANDS.
PAGE 444.
top