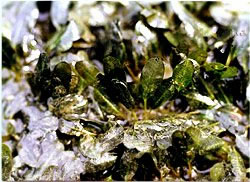 DRAWING NUMBER 40.
LOST DRAWING.
PLEASE CLICK HERE TO SEE THE IMAGE AT THE SECTION OF ENGRAWINGS.
Artist: A. Poiret. Del.
Notes by Charles Gaudichaud Beaupré & Louis de Saulces de Freycinet.
RUPPIA.
1. RUPPIA ANTARCTICA. Pl. 40, f. 2.
R. Antarctica, Labill. Nov-Holl. 2, pag. 116, tab 264.
Caulinia Antarctica.R. Brown. Prodr. Pag. 339.
Amphibolis zosteraefolia, (1) Agardh, Syst. Alg. pag. 192.
Nouvelle Hollande occidentali. (Baie des Chiens Marins)
Halophila ovata, A. Dupetit-Thouars, page 339. Marianne Islands.
WEST NEW HOLLAND.
PAGE 430.
HALOPHILA, A. Dupetit-Thouars.
Flores dioeci. Calix diphyllus, spathaceus ; foliolis oppositis, subaequalibus, tenuiter membranaceis, concavis.
Mas : Stamina 3 ; filamenta in tubum connata ; tubus brevis, post emissionem pollinis valdè elongatus. Antherae 3, liberae, uniloculares; apertae foliaceae, oblongae, nervo medio notatae, patentes.
Femina: Ovarium pedicellatum, ovale, stylo elongato terminatum, uniloculare; ovula complura, placentis tribus (!) parietalibus inserta, ascendentia; stigmata 3-5, filiformia. Fructus ovalis, polyspermus; pericarpium membranaceum, non dehicens? Semina complura, depressosubglobulosa, albida, hilo prominulo fusco notata. Integumentum duplex, utrumque tenuissimè membranaceum; exteriùs reticulatum; interiùs laeve, nitens. Perispermium semini conforme, farinosum. Embryo fusiformis, spiraliter tortus, ubi hilus periscarmio immersus, indivisus.
Herbula in inundatis littoribus vigens. Caules ramosi, ad nodos repentes, filiformes, Folia in quolibet nodo bina, longè petiolata, elliptica, trinervia, integerrima, pellucida. Stipula ad basim exteriorem cujuslibet petioli una, ovalis, concava. Flores axilares, solitarii, sessiles.
HALOPHILA OVATA.
Caulinia ovalis. R. Brown, Prod. Pag. 339.
In insulis Mariannis.
MARIANNA ISLAND.
PAGE 429-430.
top