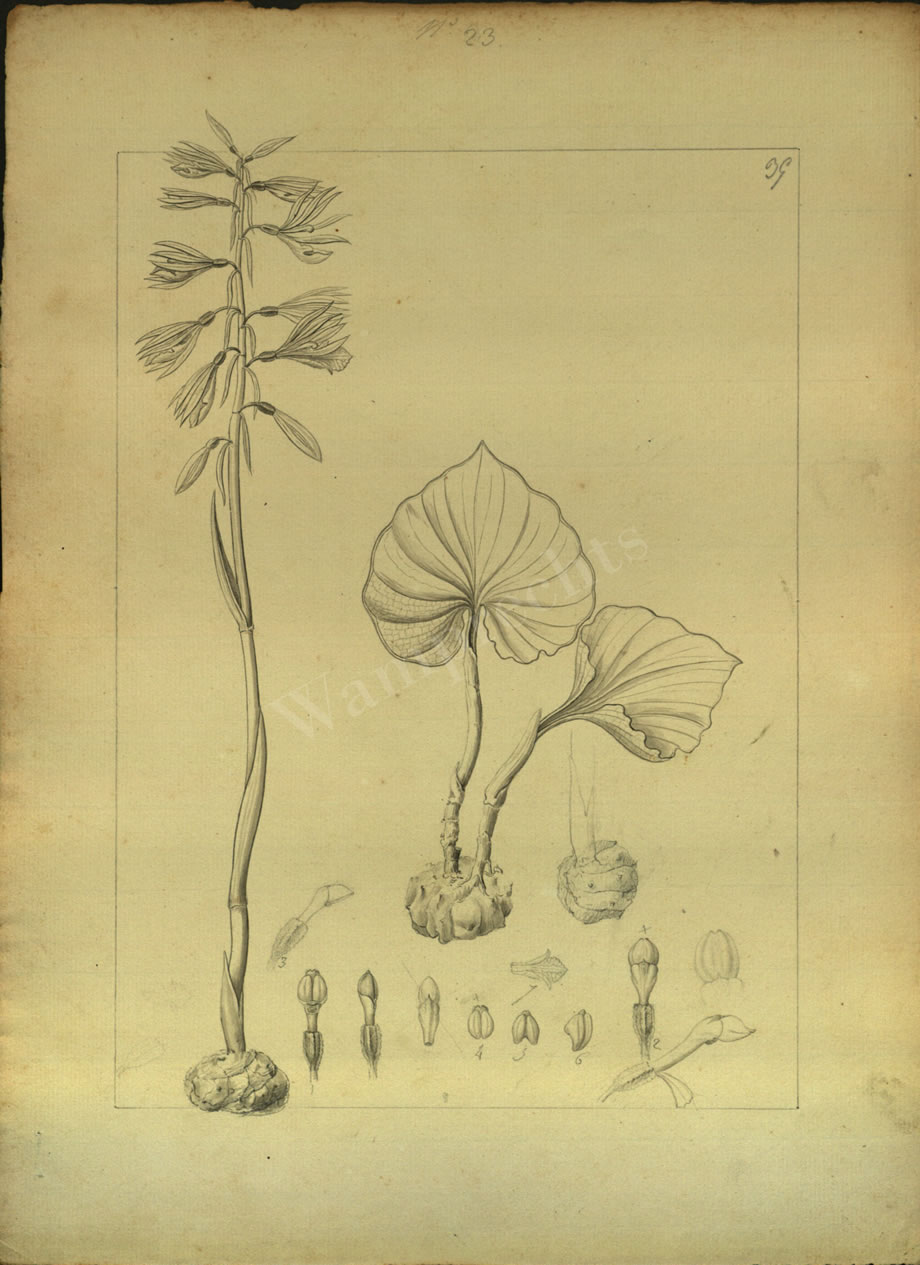 DRAWING NUMBER 35.
PLEASE CLICK HERE TO SEE THE IMAGE AT THE SECTION OF ARAGO.
Artist: A. Poiret. Del.
Notes by Charles Gaudichaud Beaupré.
NERVILIA, Commerson!.
Calycis foliola quinque subaequalia, lanceolata, patula; sextum (labellum) vix brevius, latum, triflorum, concavum, ecalcaratum, liberum.
Columella breviuscula, aptera. Anthera terminalis, bilocularis, mobilis, decidua; loculis approximatis. Pollen farinaceum!
Herba terrestris, radice suberosa (bulbosa aut subfibrosa). Folia cordato-reniformia aut ovata, membranacea, nervosa. Caulis scapiformis vaginatus, apice multiflorus. Flores pedicellati, racemosi, unibracteati, pallidè-rosei.
1. NERVILIA ARAGOANA. Pl. 35.
N. bulbosa; foliis cordato-reniformibus, membranaceis; floribus praecocibus.
Incolarum.
In insulis Mariannis. (Guam.), ad terram.
J´ai consacré cette espèce à M. Jacques Arago, dessinateur de l´expédition, qui nous en a conservé un excellent dessin.
I dedicate this species to M. Jacques Arago, drawer of the expedition, who kept us an excellent drawing of it.
Note: To see the magnificent draw of the NERVILIA ARAGOANA by Jacques Arago, please visit his album.
MARIANA ISLANDS (GUAM).
Page 422.
top