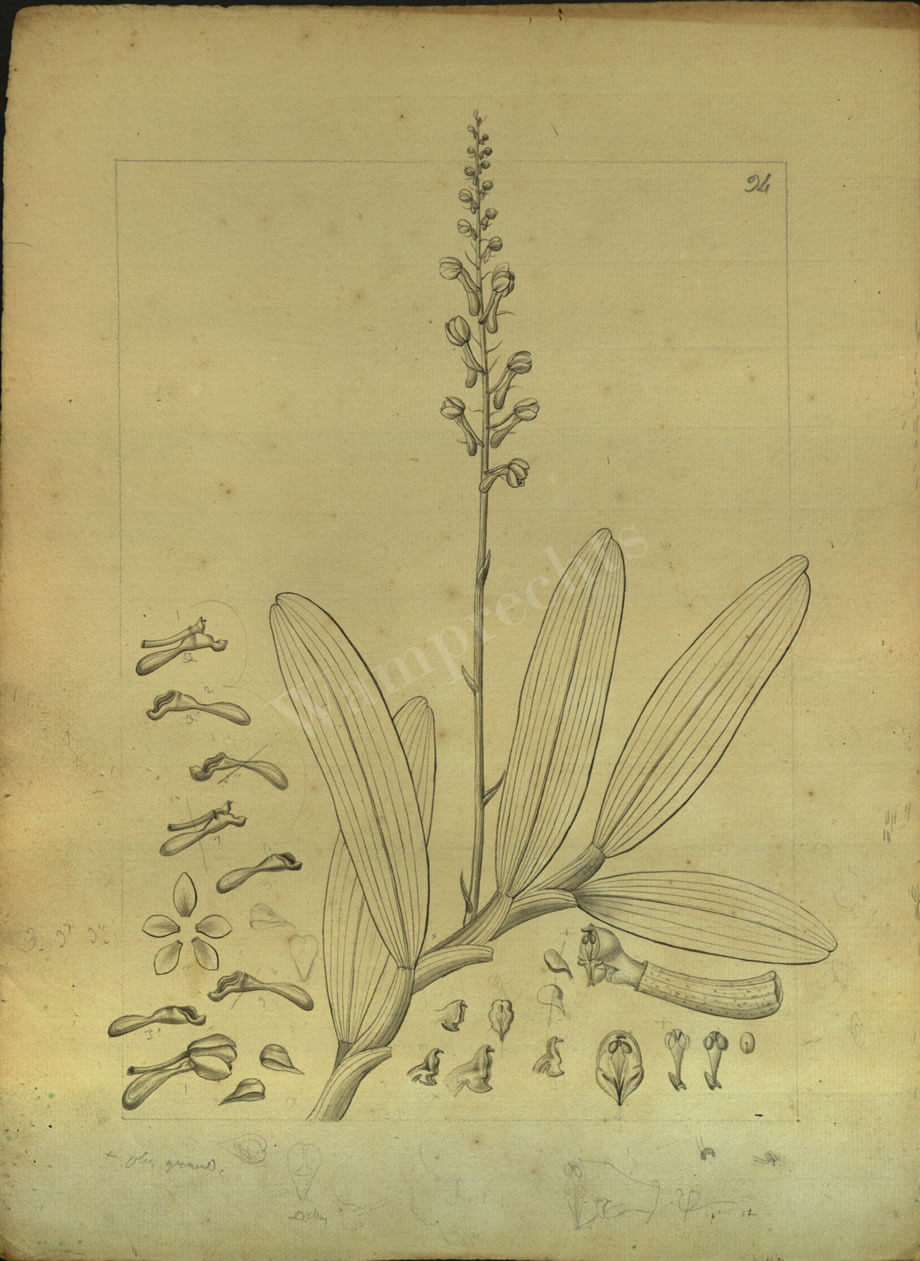 DRAWING NUMBER 34.
Artist: A. Poiret. Del.
Notes by Charles Gaudichaud Beaupré.
ROBIQUETIA.
Calycis folia quinque, subaequalia, elliptico-oblonga, conniventia; sextum (labellum) brevius, calcaratum, trilobum, lobis lateralibus ascendenti-inflexis, liberum. Calcar ventricoso-clavatum, pendulum.
Columella abbreviata, aptera. Anthera terminalis, operculata, decidua, unilocularis. Massae pollinis duae, subellipticae, processui rhombeosubspathulato infra apicem insidentes, cereae; processus per glandulam basilarem uncinato-inffexam, apici stigmatis affixus.
Herba parasitica. Caulis ramosus, repens, foliatus. Folia coriacea, plana, basi vaginantia, cum vagina articulata. Racemi laterales elongati.
Flores pedicellati, unibracteati.
Vix distincta ab angraeco Lindl. In hoc: LabelLum cum columella continuum (!); Anthera bilocularis et Massae pollinis glandulis destitutae.
Habitus diversus.
1. ROBIQUETIA ASCENDENS. Pl. 34.
In insulis Moluccis (Rawak.). Ad arborum truncos.
J´ai consacré ce genre à M. Robiquet (Pierre), à qui la science chimique doit de si nombreuses et si importantes découvertes (l´asparagine, l´agédoite, la morphine, la caféine, &c.).
I dedicate this genus to Mr. Robiquet (Pierre), in which the chemical science has so many and so important discoveries (the asparagine, the agédoite, the morphine, the caffeine, & c.).
MOLUCAS ISLANDS.
PAGE 426.
top