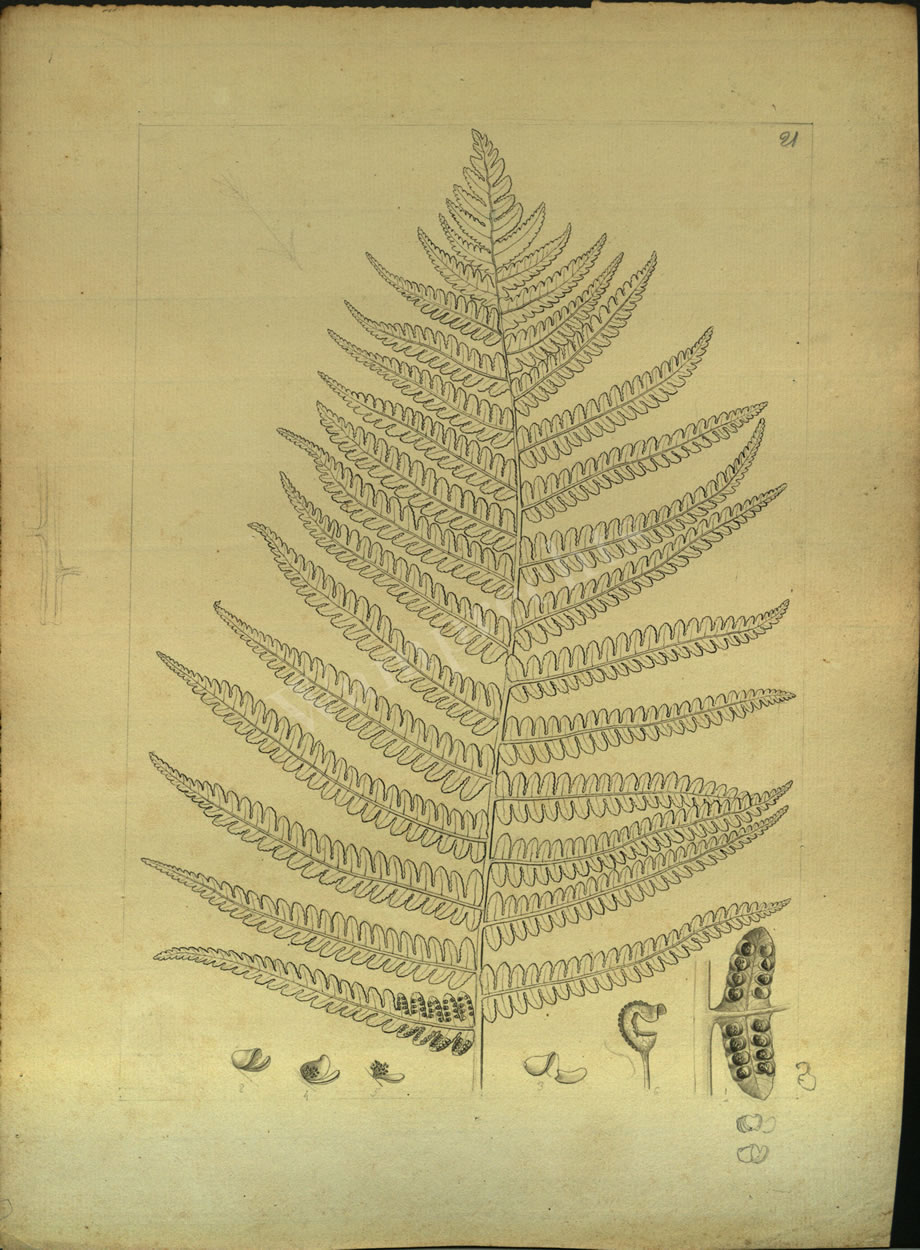 DRAWING NUMBER 21.
Artist: A. Poiret. Del.
Notes by Charles Gaudichaud Beaupré.
PINONIA. (I).
Sori dorsales submarginales: indusium capsuliforme, bivalve; valvulá exterior fornicatâ, affixâ; exteriore liberâ operculiformi.
PINONIA SPLENDENS. Pl. 21.
P. caudice arboreo, aureo.laguminoso; frondibus fasciculatis, tripinnatifidis; vel tripinnatipifidis, lineari lanceolatis, subacuminatis, basi subarticulatis; lacinnis oblongis, obtusis, apice crenulato-dentatis; rhachi venisque hirtis; stipite inferne lanato.
P. splendens, C. Gaudichaud. Ann.des. Sc. Nat. Décemb. 1824, pag. 507; idem, Gener. Pag. 96.
Cibotium chamissoi ! Kaulfuss. Enum. Fil. Pag. 230, f. 14.
Dicksonia. Smith. Ex R. Brown.
In insulis Sandwicensibus. (Wahou, alt. 300-350 hex.)
J´ai consacré cette plante à M.me Louis de Freycinet, comme un bien foible témoignage de ma respectueuse admiration.
I dedicate this plant to Madame de Louis de Freycinet as a good testimony of my Respectful admiration. (Rose Pinon de Freycinet). !!!
SANDWICH ISLANDS (WAHOU).
PAGES 369-370.
top