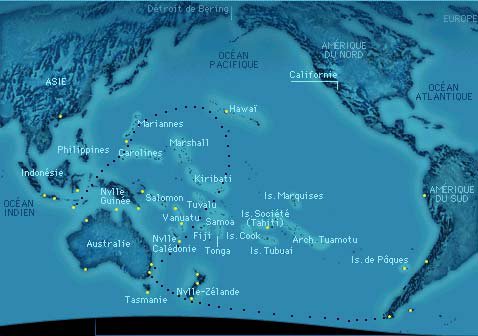 ITINERARY OF THE TRAVEL AROUND THE WORLD AT THE CORVETTES L´ URANIE, LA PHYSICIENNE, 1817-1820.
17-September-1817.
Departure from Toulon, France.
29-September-1817.
In view, Gibraltar, but the winds are contrary and push the ship to the Mediterranean.
11-Oct-1817 finally landing in Gibraltar.
14-Oct-1817.
Leaving Gibraltar.
22-Oct-1817.
Arrival at Tenerife.
28-Oct-1817.
Departure from Tenerife.
6-Dec-1817.
Arrival at Rio de Janeiro.
30-Jan-1818.
Departure from Rio de Janeiro.
7-Feb-1818.
Arrival at Cape Town.
7-April-1818.
Departure from Cape Town.
5-May-1818.
Arrival at Ille de France.
16-Jul-1818.
Departure from IIle de France.
19-Jul-1818.
Arrival at Saint-Denis, IIle Bourbon (Reunion).
28-Jul-1818.
Final departure from Saint-Paul, IIle Bourbon.
11-September-1818.
In view of New Holland (Australia), north side of the Earth of Edels.
12-September-1818.
Stop at the mouth of the Bay Chiens Marins, (Shark Bay, Australia) New Holland, north of the island of Dirck Hartog.
13-Sep-1818.
Landing at the Dampier Bay, at the Point of the Peninsula Peron.
26-September-1818.
Departure from Shark Bay.
9-October -1818.
Arrival at Kupang (Coupang, Timor, Indonesian side) Dutch West Indies.
23-Oct-1818.
Departure from Kupang or Coupang.
17-Nov-1818.
Arrival at Diely (Dili) East Timor.
22-Nov-1818.
Departure from Diely.
16-Dec-1818.
Arrival at Rawak (Pulau Lawak, northern Waigeo, West New Guinea, Indonesia) - Via Amboina, Strait Manipa, Halmahera Sea, Strait of Jailolo and Strait of L´Uranie.
6-Jan-1819.
Departure Rawak, the Ecuator is on the road.
25-Feb-1819.
Continuing for 12 days at the islands of the Admiralty, before changing the course towards the Carolinas.
17-Mar-1819.
Arrival at Umatac, island of Guam.
4-Apr-1819.
Transfer from Umatac to St. Louis and in the evening to Agana.
4-Jun-1819.
Boarding crew in St. Louis, and June 6 Finally departure to the Sandwich Islands (Hawaii).
5-Aug-1819.
In view, the Sandwich Islands, Owyhee Island (Hawaii).
8-Aug-1819.
Stop at the Bay Kayakakoua (Kealakekua, Hawaii).
12-Aug-1819.
Stop at the Bay Kohai-hai (Kowaihae, NW of Hawaii).
16-Aug-1819.
Stop at the Isle of Mowi (Maui).
26-Aug-1819.
Stop at the Isle of Woahou (Oahu).
30-Aug-1819.
Final departure of the Sandwich Islands.
21-Oct-1819.
Discovery of the Rose Island.
18-Nov-1819.
Arrival at 20.00 antemeridian at the Bay of Port Jackson (Sydney).
25-Dec-1819.
Departure of Port Jackson at 20.00 pm.
7-Feb-1820.
Vía Cape Deseado (Cabo Pilar).
8-Feb-1820.
At the Cap Horn Passage.
12-Feb-1820.
Arrival at the Falklands.
14-Feb-1820.
At the mouth of the French Bay (Berkeley Sound, Baye Accaron or Bahia de la Annunciación) the Corvette L´Uranie strike against a submerged reef (Today's reef L´Uranie).
15-Feb-1820.
Shipwreck! At 3.00 L´ Uranie is made to stop on a sandbar (Uranie's Bay Today)
21-Feb-1820.
Louis de Freycinet and Rose Pinon de Freycinet were the last to abandon the corvette L´ Uranie.
8-April-1820.
Paris finds out what happened.
16-Apr-1820.
Rose finally embarked on the Mercury.
27-Apr-1820
Departure of the Falklands.
8-May-1820.
At 6.00 pm in the evening the Mercury throw the anchor in Montevideo and the ship is renamed La Physicienne.
11-May-1820.
Finally at noon Rose Pinon de Freycinet landed.
6-Jun-1820.
Embarking everyone.
7-Jun-1820.
Departure from Montevideo.
19-Jun-1820.
Stop at the Bay of Rio de Janeiro.
20-Jun-1820.
At 8.00 am, stop at the inner part of the port of Rio.
23-Jun-1820.
Rose landed temporarily.
1-Jul-1820.
Rose settles down. The Physicienne hull is repaired.
13-Sep-1820.
Departure from Rio de Janeiro.
10-Nov-1820.
Arrival at Cherbourg.
12-Nov-1820.
Cherbourg.
13-Nov-1820.
End of the journey at Le Havre.
top