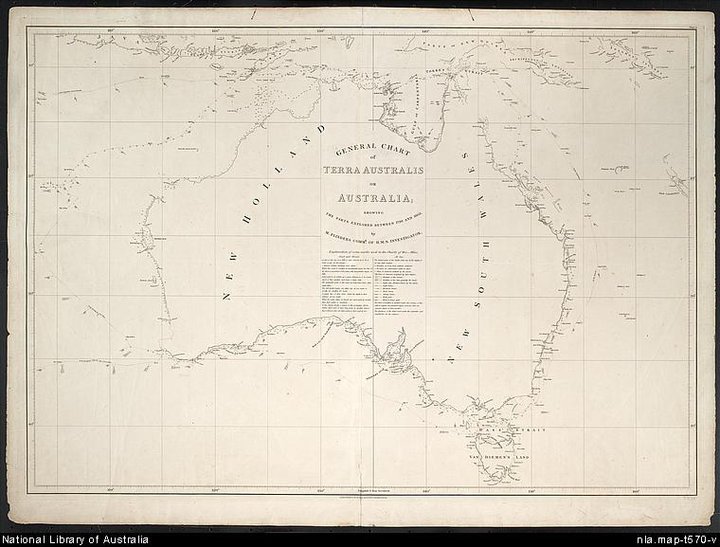 New Holland.
Is a historic name for the island continent of Australia. The name was first applied to Australia in 1644 by the Dutch seafarer Abel Tasman as Nova Hollandia, naming it after the Dutch province of Holland, and remained in use for 180 years.
William Dampier's account of exploring the region used the name in his account. The American author Edgar Allan Poe also referred to New Holland as late as 1833, in his prize-winning short story "MS. Found in a Bottle": "the hulk flew at a rate defying computation (...) and we must have run down the coast of New Holland".
After the establishment of a settlement at New South Wales in 1788, which encompassed the eastern part of the continent, the term New Holland was more often used to refer only to that part of the continent that had not yet been annexed to New South Wales; thus it referred to the area of land that is now Western Australia.
The abandonment of the name is due to Matthew Flinders, who used the name Australia for the continent, and recommended its official adoption. This was rejected at the time, but in 1824 the name change received official sanction by the United Kingdom; though the term "New Holland" was still in use as late as 1837 in official correspondence between the Government in London and the colony of New South Wales, referring to the entire continent of present-day Australia (ref. Richards, J., "The Secret War: A True History of Queensland's Native Police", 2008, p. 49).
In the Netherlands Nieuw Holland would remain the usual name of the continent until the end of the 19th century; it is now no longer in use, the Dutch name now is Australië.
top