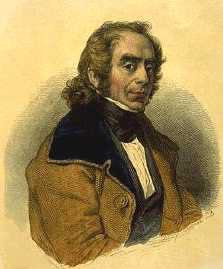 Jacques Arago
Jacques Étienne Victor Arago (Estagel (France) 6 March 1790 – Rio de Janeiro (Brasil) 27 November 1855) was a French writer, artist and explorer, author of a Voyage Round the World.
Biography
Jacques was born in Estagel, Pyrénées-Orientales. He was the brother of François Arago (1786–1853), a scientist and politician, the most famous of the four Arago brothers. His two other brothers were Jean Arago (1788–1836), a general in the Mexican army; and Étienne Arago (1802–1892), a writer and politician.
Jacques Arago joined Louis de Freycinet on his 1817 voyage around the world aboard the ship Uranie, which inspired his witty Voyage autour du monde.
Although he lost his sight in 1837, he went on traveling and writing for the theater. In Curieux voyage autour du monde (1853), he tells of his round trip without once using the letter "a".
He died in Rio de Janeiro, Brazil. Over forty of his drawings were donated to the Honolulu Academy of Arts by Frances Damon Holt.
top