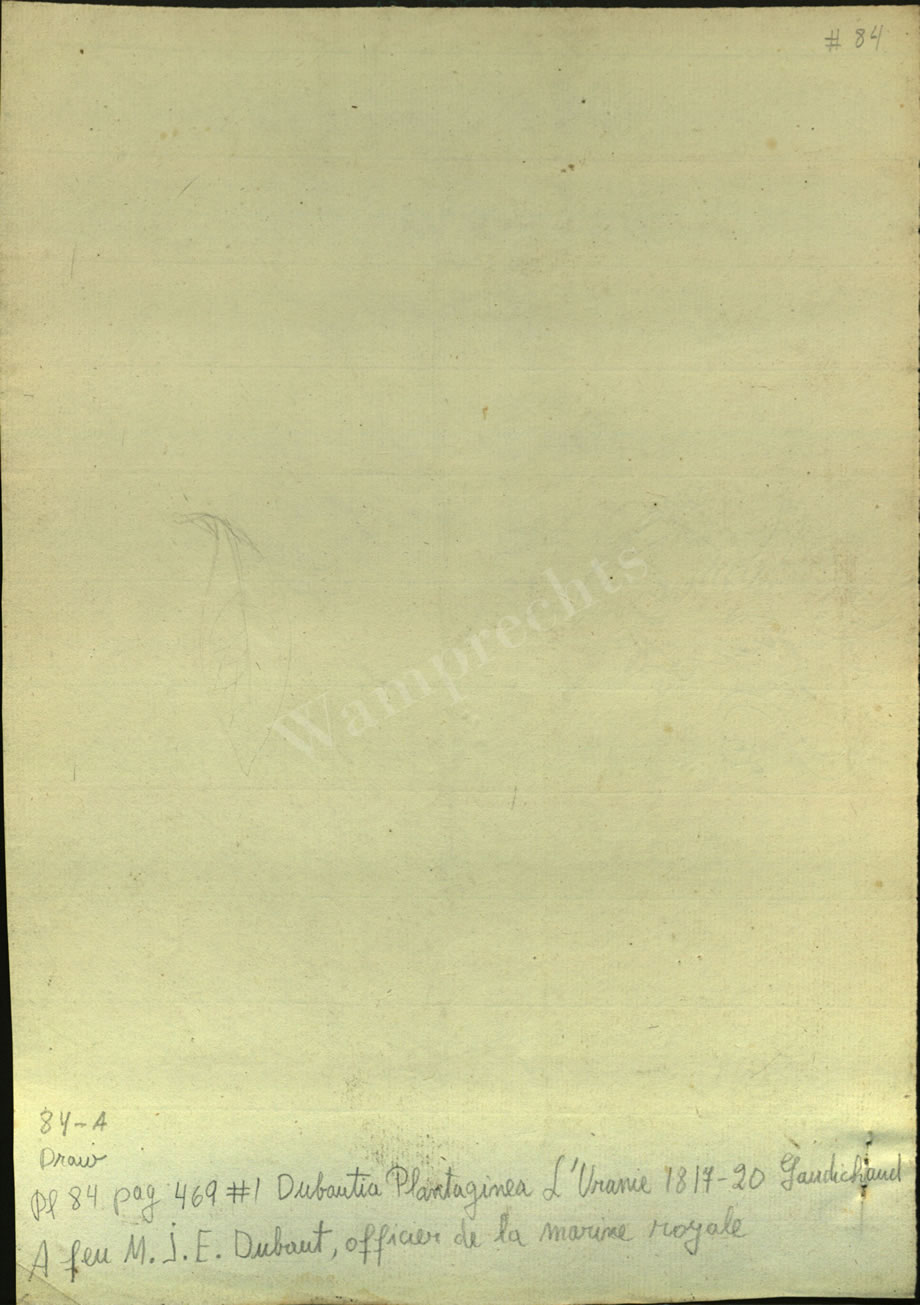 DRAWING NUMBER 84-A, REVERSE.
The engraving also appears as: Mowia Plantaginea SANDWICH ISLANDS, (MOWI ISLAND).
Artist: A. Poiret. Del.
Notes by Charles Gaudichaud Beaupré.
DUBAUTIA.
Involucrum campanulatum, suboctophyllum ; foliolis liberis, margine sibi mutuò incumbentibus. Flores 8-10, tubulosi, hermaphroditi. Filamenta linearia, apice vix incrassata. Stigmata dilatata, acuta, ciliata. Fructus obovato-turbinati, glabri. Pappus plumosus.
Suffrutex ramis apice foliolis, infernè nudis, cicatrisato-annulatis.
Folia opposite, sessilia, basi subconnata, acuminate, dentate, rigida, parallelè venosa, glabra. Paniculae terminales, foliatae ; ramis alternis.
Flores fasciculati, luteo-rosei.
DUBAUTIA PLANTAGINEA. Pl. 84.
In insulis Sandwicensibus (Alt. 550-600 hex.).
A feu M. E. Dubaut, officier de la marine royale, à l´obligeance duquel je dus un grand nombre de plantes curieuses.
To Mr. J.E.Dubaut, officer of the royal marine to the kindness of which I owed a big number of curious plants.
SANDWICH ISLANDS.
PAGE 469.
top