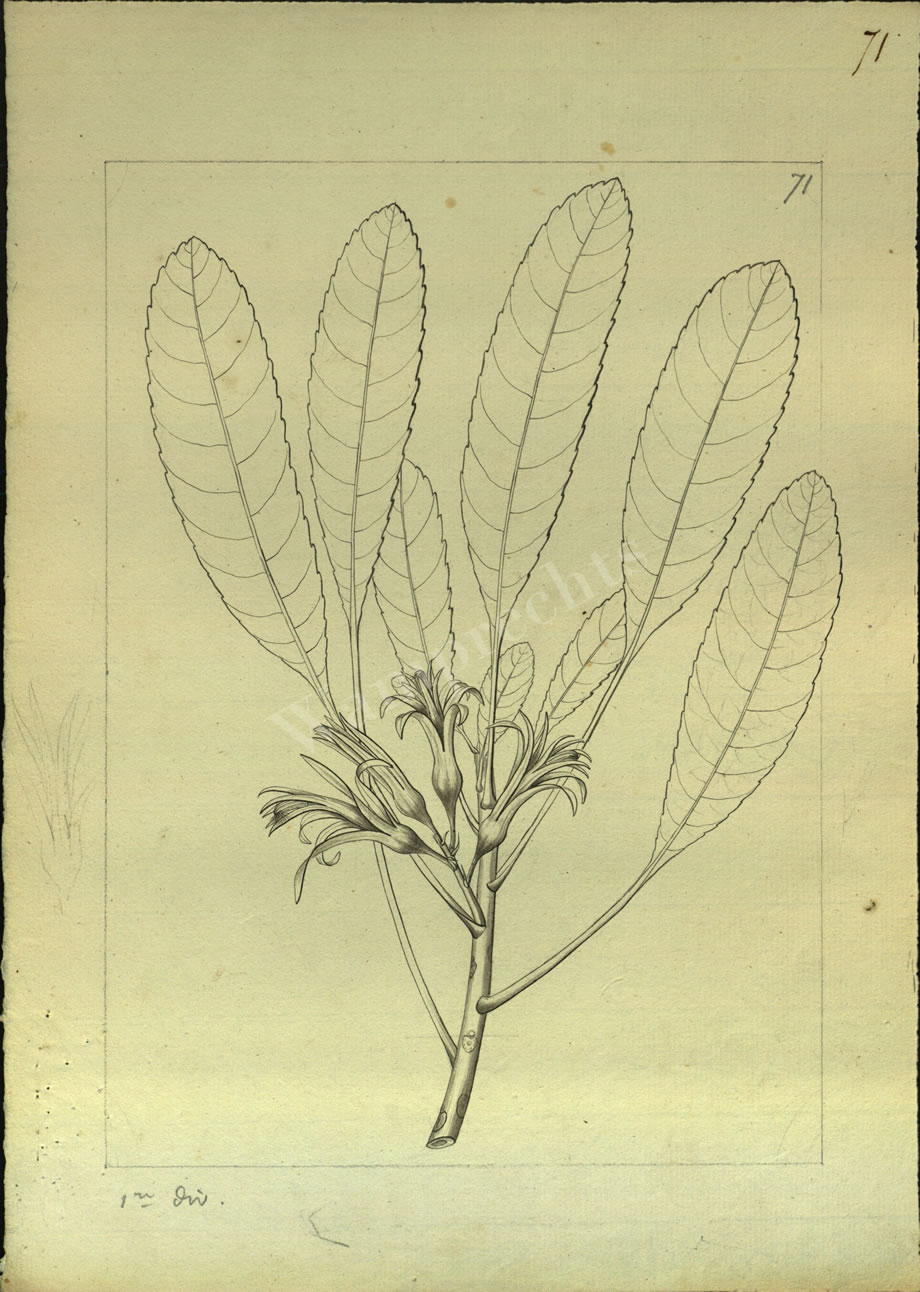 DRAWING NUMBER 71.
Artist: A. Poiret. Del.
Notes by Charles Gaudichaud Beaupré.
CLERMONTIA.
Calix tubulosus arcuatus, quinquedivisus, internè ovario adnatus, longotudine corolla corolatus, caducus, Corolla tubulosa, arcuata, quinquefida, subregularis. Stamina quinque, unà cum corolla caduca. Filamenta in tubum liberum connata. Anterae cohaerentes. Stigma bilobum, pilis cinctum. Capsula baccata, bilocularis apice nuda, non dehicens; loculis polystpermis.
Caulis fructicosus vel arborescens, lactecens. Folia alterna, integra, stipulata. Flores racemosi, axilares, bracteati, speciosi, albidi vel roseoviolacei (caerulei!).
J´ai consacré ce genre à M. le marquis de Clement-Tonnerre, ministre de la marine, come un bien foible témoignage de reconnaissance et de respect.
I dedicated this genus to the Marquis de Clement-Tonnerre, Minister of the Navy, as a just evidence of recognition and respect.
Clermontia oblongifolia. Pl. 71.
C. foliis longissimè petiolatis, oblongis, acutiusculis, crenatis; calcybus quinquepartitis.
Lobelia oblongifolia. Olim.
In insulis Sadwicensibus (Alt. 450-500 hex); cum sequentibus.
SANDWICH ISLANDS.
Page 459.
top