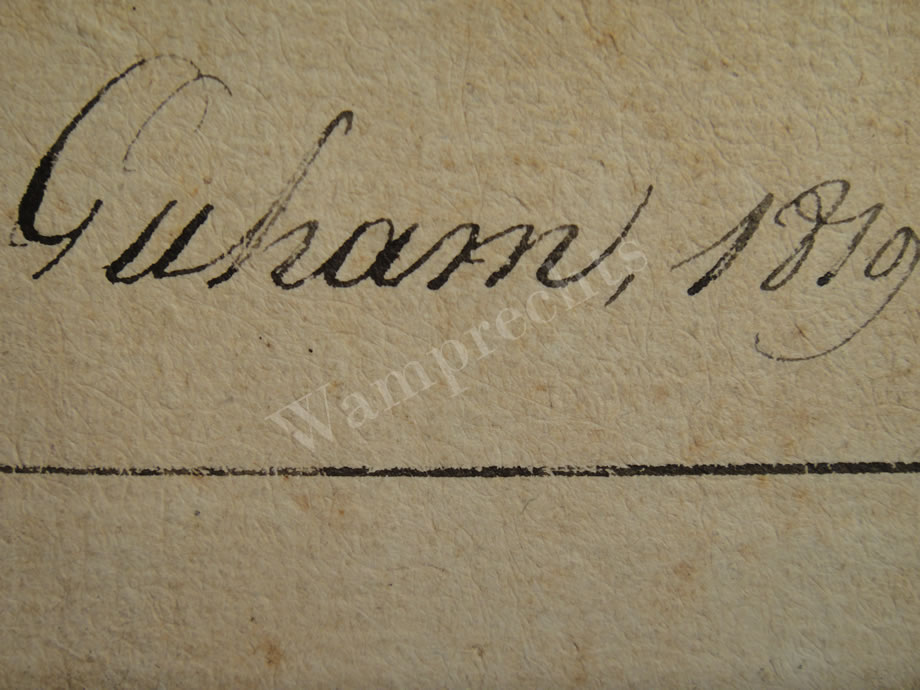 Jacques Victor Etienne Arago. (Jacques Arago).
(Estagel 1790-Brasil 1855).
Travel around the world 1817-1821, La Uranie-La Physicienne.
# ¿?. Unidentified.
Unpublished.
Signed & dated 1819. Js. Arago, fecit 1819./…..Fecit : (he made it).
Guham 1819./
Histoire Nlle./ Plantes.
Approuvé par les MMrs les naturalistes. (Approved by the Messrs. naturalists).
Ink wash drawing.
24. 04 x 25 centimeters.
13. 04 x 10 inches.
Damages caused by the shipwreck in the Falkland Islands the 15 February 1,820.
Detai of the inscription "Guham", (Guam)
GUAM.
Guam (/ˈɡwɑːm/ Chamorro: Guåhan) is in the western Pacific Ocean and is an organized, unincorporated territory of the United States. It is one of five U.S. territories with an established civilian government. The island's capital is Hagåtña (formerly Agaña). Guam is the largest and southernmost of the Mariana Islands.
The Chamorros, Guam's indigenous people, first populated the island approximately 4,000 years ago. The island has a long history of European colonialism. First discovered by Europeans by Ferdinand Magellan on March 6, 1521, the first colony was established in 1668 by Spain with the arrival of settlers including Padre San Vitores, a Catholic missionary. The island was controlled by Spain until 1898, when it was surrendered to the United States as part of the Treaty of Paris following the Spanish-American War.
top